Penta-Ocean Orders First Japanese-Built Wind Turbine Installation Vessel
Japan's Penta-Ocean Construction and Japan Marine United Corporation (JMU) have signed a contract for the construction of one multi-purpose self-elevating platform vessel suitable for marine civil engineering works or offshore wind turbine installation in harsher weather and marine conditions.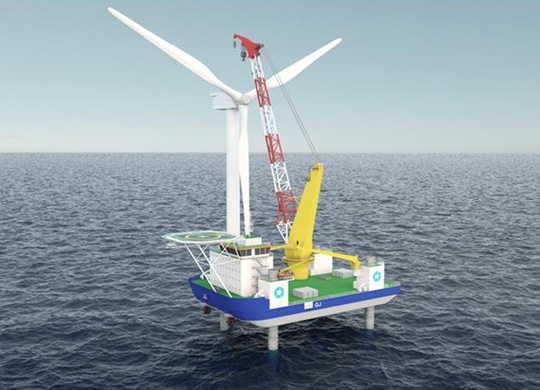 The basic design of the jack-up vessel, the first of its kind to be built in Japan, has been supervised by the Netherlands-based GustoMSC.
The vessel is designed based on jack-ups used in Europe for installation of oil rigs or offshore wind turbines, but with a jack-up system that matches Japanese natural conditions and on-site characteristics.
It will be equipped with a fully-revolving crane with an 800-ton lifting capacity, as well as a dynamic positioning system, enabling the vessel to perform installation of large-scale marine structures such as offshore wind turbines with a capacity of up to 6MW and foundations in the water depths of up to 50 metres.
The jack-up is also designed for operations in Japan's Greater Coasting Area and for becoming a shallower draft vessel. It will come equipped with accommodation units and a helicopter deck for emergency transfers.
The jack-up is expected to be delivered in September 2018.
As a result of latest amendment to the country's Port and Harbor Act that took effect on July 1, 2016, the port areas will be more accessible to operators wishing to construct offshore wind farms, and the vessel is optimized to undertake this task, according to Penta-Ocean.