UK Energy Minister Meets with GEV Wind Power
GEV Wind Power Projects Director, Alastair Gadney, was among the energy industry leaders to be hand-selected to meet with the RT Hon Ed Davey, Secretary of State for Energy and Climate Change, at a recent roundtable discussion at the Hull & Humber Chamber of Commerce offices.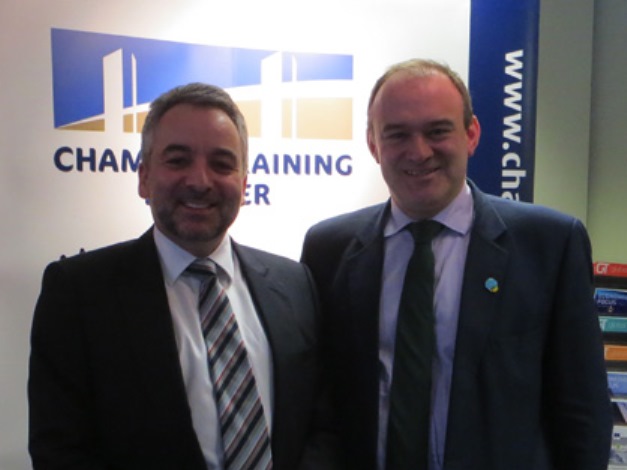 The Minister led the group to discuss existing energy supply issues, the growth in job prospects and regional economy, as well as the exciting new opportunities for the renewable energy industry.
With offices in Great Yarmouth and Hull, GEV Wind Power has developed a habitat structure to enable engineers to complete vital repair and maintenance work on remote wind turbines in a weather-protected environment. The GEV blade habitat is expected to save the wind energy sector between three and five days lost to weather in each maintenance season. This, in turn, has the potential of returning a one to two percent increase in annual energy production, whilst also reducing the cost of maintenance for operators and owners. Ultimately, this innovation will have direct impact on driving down the cost of wind energy – a strategic aim for the entire global wind industry.
"Government and cross-party support and encouragement in driving the innovation for cost reduction and job creation is great news for GEV Wind Power," said Gadney.
The Minister reminded the round table gathering of the two most significant changes in legislation brought in, the Climate Change Act 2008 and his own Energy Act 2013, highlighting there is a clear and evident long-term cross-party conviction to support the UK's future energy requirements.
Following the event, Gadney said: "The Secretary of State was clearly fully engaged with the sector and demonstrated an exceptionally well informed understanding of the multitude of issues across the energy sector. Whilst being pragmatic and forward-thinking, he was refreshingly open to input from SMEs on the improvements that government could introduce, particularly on the support to innovation within the supply chain."
All participants were hand-selected to attend the discussion based on their experience in driving the local energy landscape, and its resulting contribution to local jobs and the wider economy.
Image: GEV Wind Power