Alstom Assists with Singapore's Renewable Energy Integration
Alstom and Singapore's Nanyang Technological University (NTU) have announced a collaboration to design, develop and deploy MicroGrid Power Mix Management (MPMM) solution in the context of the Renewable Energy Integration Demonstrator – Singapore (REIDS) initiative. This collaboration will begin from January 2015.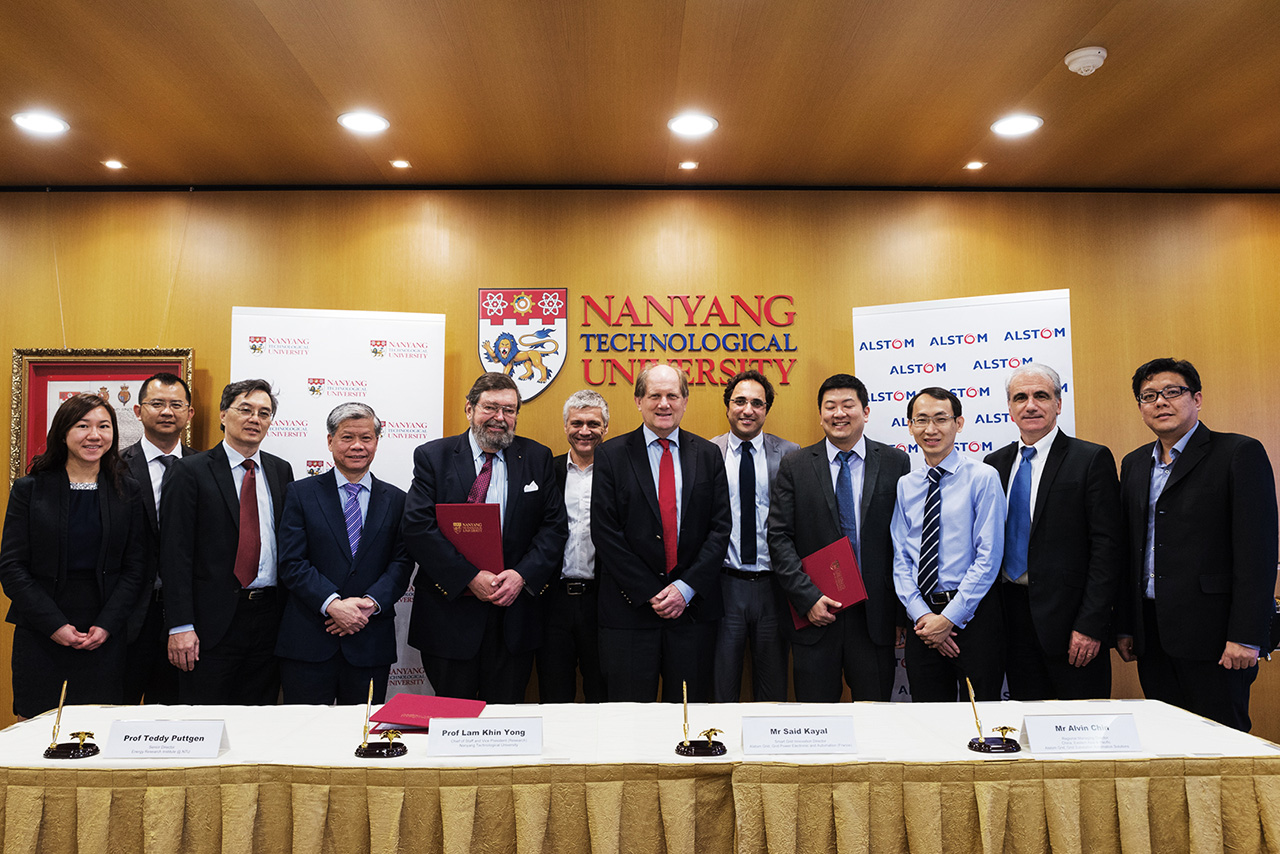 Announced in October 2014, the REIDS initiative, a first in the region will encompass the construction of a microgrid to manage and integrate electricity generated from multiple sources including solar, wind, tidal, diesel, as well as energy storage and power-to-gas solutions.
Together with NTU, Alstom will jointly develop a unique MicroGrid Power Mix Management solution, based on Alstom's Digital Automation Platform (DAP), which will manage power exchanges within a microgrid both when it is connected to or separated from the main grid. This solution is to be implemented at NTU's EcoCampus and subsequently on the Semakau Landfill, an offshore landfill between the islands Pulau Semakau and Pulau Sakeng, located south of the main island of Singapore.
The deployment within the EcoCampus will allow NTU to further enhance the energy efficiency of its campus while also integrating a mix of distributed energy resources, such as solar, wind, diesel and gas technologies, deployed in the Campus. The Semakau Landfill project will demonstrate the ability to manage new energy mix based on high penetration of renewable sources in an off-the-grid environment.
The main objective of this project is to ensure a greener and stable supply of energy through the integration of smart energy management and energy storage systems. The Microgrid solution in Semakau Landfill can also be used to power small islands and rural communities off the national grid. It may also function as a back-up solution during emergencies within urban areas.
"We are delighted with this opportunity to bring our experience, technology and expertise to support Singapore's, ever growing energy requirements. This landmark project sets the country on a strategic path of integrating and fully utilising multiple sources of energy for long term sustainability," said Hervé Amossé, Substation Automation Solutions Vice President for Alstom Grid.
Professor Lam Khin Yong, NTU Chief of Staff and Vice President (Research), said: "Renewable and sustainable energy is a key pillar of NTU's research efforts. NTU's collaboration with a global corporation such as Alstom underpins the university's strength in transforming its engineering expertise into practical industry applications. Micro-grids will play an ever-growing role in the rapidly expanding electric energy technologies and systems in the Southeast Asian region and NTU is well-placed to contribute to this growth. The systemic integration of renewable energies and energy storage based on the micro-grid technology presents many collaboration opportunities between NTU and the industry."
Goh Chee Kiong, Executive Director, Cleantech, and Cities, Infrastructure & Industrial Solutions of Singapore Economic Development Board (EDB) said: "Singapore aims to be the leading clean energy hub in Asia where companies can develop and commercialise energy management solutions able to effectively integrate multiple energy sources. To this end, Singapore has set up innovation platforms such as REIDS to foster co-innovation among complementary companies in the energy industry ecosystem. We are pleased to partner with Alstom, a global leader in power engineering, to use Singapore as a springboard to grow the markets in Asia."
The project will largely be delivered by our engineering team in Singapore, which has an expertise in power-mix management, as well as our teams in France and UK. Alstom views Asia as a promising market for Microgrids. Alstom is currently involved in a variety of microgrid projects worldwide, including the Nice Grid project, in south eastern France, and the IssyGrid project, in the Paris region.
Press release; Image: Alstom