WindEnergy Hamburg: Honeywell Displays Latest Fall Protection Product Range
Honeywell, an international supplier of personal protective equipment (PPE), is currently presenting its latest occupational safety solutions for onshore and offshore wind turbine applications at the inaugural WindEnergy exhibition in Hamburg, Germany.
Visitors to the Honeywell stand, B2.EG.288 in Hall B2, will be able to find out more about the company's newest height safety products including the Miller Evac-Bodysplint rescue stretcher.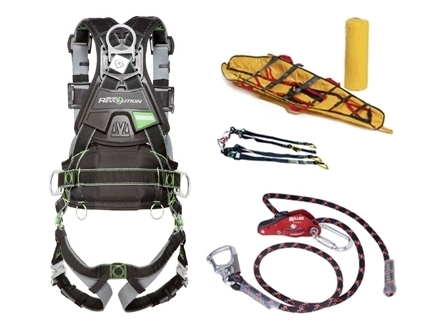 "The wind power industry is experiencing very rapid growth globally, with constant new demands on workplace safety, and yet falls from height remain one of the greatest dangers," explains Esther Hafenscher, senior marcom manager of fall protection, Honeywell Safety Products EMEAI. "Feedback from experts and customers is absolutely crucial as the information they give us based on their experiences is essential for the development of our solutions. The international trade fair of WindEnergy in Hamburg is an ideal platform for us to get this feedback in person." 
Honeywell will be showcasing a number of innovative safety solutions for the wind industry including:
Miller Evac-Bodysplint rescue stretcher from Miller by Honeywell, which has been specifically developed for the wind energy industry. Designed with customer feedback, the stretcher conforms to the shape of the body and has flexible straps. The new spider suspension system ensures safe rescues even in extremely difficult situations;
Miller HandZup® work positioning lanyard, a new patented work holding and positioning system that is specifically designed for safe and intuitive use guaranteeing optimum work positioning. With an ergonomic design that enables increased flexibility, durability and ease of use, Miller Handzup allows hands-free operation with zero risk;
Miller Revolution R7 harness that is specifically designed for wind energy applications and offers users a comfortable fit with enhanced mobility. This innovative fall protection equipment features automatic buckles, an Ergo Armor back shield and work positioning belt providing workers with superior protection at height. All Miller fall protection harnesses designed for the wind industry are CE certified and comply with EN standards (EN 361) and where relevant EN 358 and EN 813. Many harnesses in the Miller line meet international approvals and standards including EN, CSA, ANSI, OSHA and ACE / NZS;
Söll MultiRail®, a modular rail anchor system that can be factory-curved to match any rooftop profile and offers increased fixing intervals of up to six metres which, combined with the availability of overhead versions, make it ideal for next generation multi-megawatt turbines and use in increasingly bigger nacelles.
To help safety managers build an enduring culture of safety, Honeywell Safety Products is now also offering specific wind turbine technician safety training. Visitors to the WindEnergy event interested in this opportunity are invited to come and talk to experts on the stand for more detailed information on this service.
[mappress mapid="14195″]
Press release, September 23, 2014; Image: Honeywell