Iberdrola, Oceantec Test Wave Energy System
IBERDROLA INGENIERÍA and OCEANTEC held a demonstration on the results of the UHINDAR project, a flagship R&D initiative to create a generation system for harnessing energy from waves.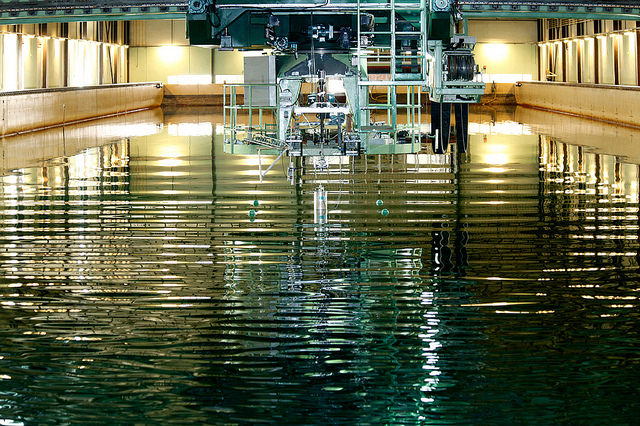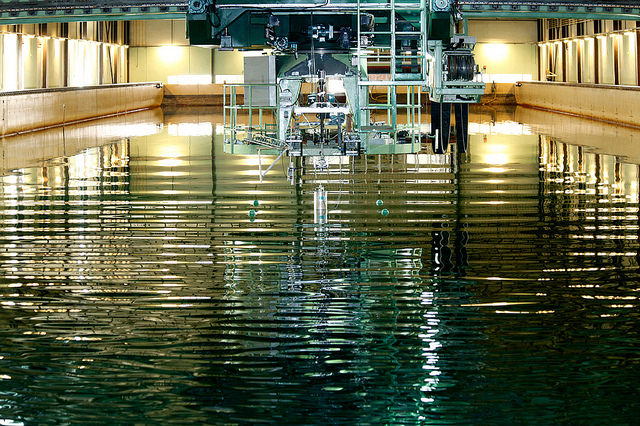 The presentation on this €8.5 million project included a comprehensive demonstration on the functioning of the new wave converter, which is based on an oscillating water column system and was exposed to waves of varying intensities.
The tests were performed on a 1:20 scale prototype, which is due to be tested off the Basque coast in the summer of 2015, at the BIMEP (Bilbao Marine Energy Platform) facilities. The entire development is geared towards the creation of new systems for offshore wave power farms.
The demonstration took place on the morning of June 27 at the facilities of the El Pardo Hydrodynamic Experimentation Canal (CEHIPAR) in Madrid. This centre of research seconded to the Spanish Ministry of Defence is one of the best equipped in Europe for simulating renewable infrastructure in extreme offshore conditions.
The event was attended by the Director of Innovation in IBERDROLA INGENIERÍA, Luis Malumbres; the Managing Director of OCEANTEC, José Luis Aguiriano; the Director of Technology at OCEANTEC, Martin Ojanguren, and the Director of the CEHIPAR centre, Emilio Fajardo.
The UHINDAR project is headed by IBERDROLA INGENIERÍA, with the participation of Basque firms Oceantec Energías Marinas, Ingeteam Power Technology, Itsaskorda, Jema Energy, Obeki Electric Machines, Vicinay Cadenas and Corporacion Zigor.
The initiative is partially funded by the Etorgai grant scheme launched by the Basque Country Government, via the SPRI Group (a company seconded to the Basque Department of Industry, Innovation, Trade and Tourism) to promote integrated industrial research projects.
Etorgai is enabling industrial projects in strategic sectors and boosting collaboration between the public and private sectors on research, technological development and innovation. The ultimate goal is to exert a pull effect on the economy of the Basque Country, by promoting the participation of SMEs and access to the European Commission's Seventh Framework Programme for R&D.
Press release, June 30, 2014; Image: Iberdrola