Dong Halts Westermost Rough Night Activities
The Marine Management Organisation (MMO) has restricted night piling activities at the Westermost Rough offshore wind farm.
The decision follows a number of complaints from East Riding residents about the vibration and noise coming from monopile piling activities at the wind farm located offshore Withernsea.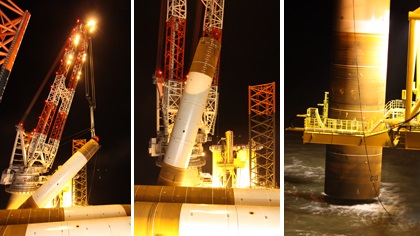 Last month, MMO met with the Westermost Rough wind farm developer Dong Energy and East Riding of Yorkshire Council (ERYC) to try to identify the source of the noise, after which they stopped installation activities between 11pm and 7am, having confirmed that the noise was indeed at a nuisance level.
Graham Stuart, MP for Beverley and Holderness, who has been working with Withernsea residents on this case said: "I hope that from now on everyone in the Withernsea area will sleep well."
The Westermost Rough Offshore Wind Farm, situated 8km from the Holderness coast, will comprise 35 Siemens 6MW turbines.
The commissioning is expected in the first half of 2015.
Offshore WIND staff, May 05, 2014; Image: dong energy