UK: Local School Children Name New Workboat at E.ON's Robin Rigg Wind Farm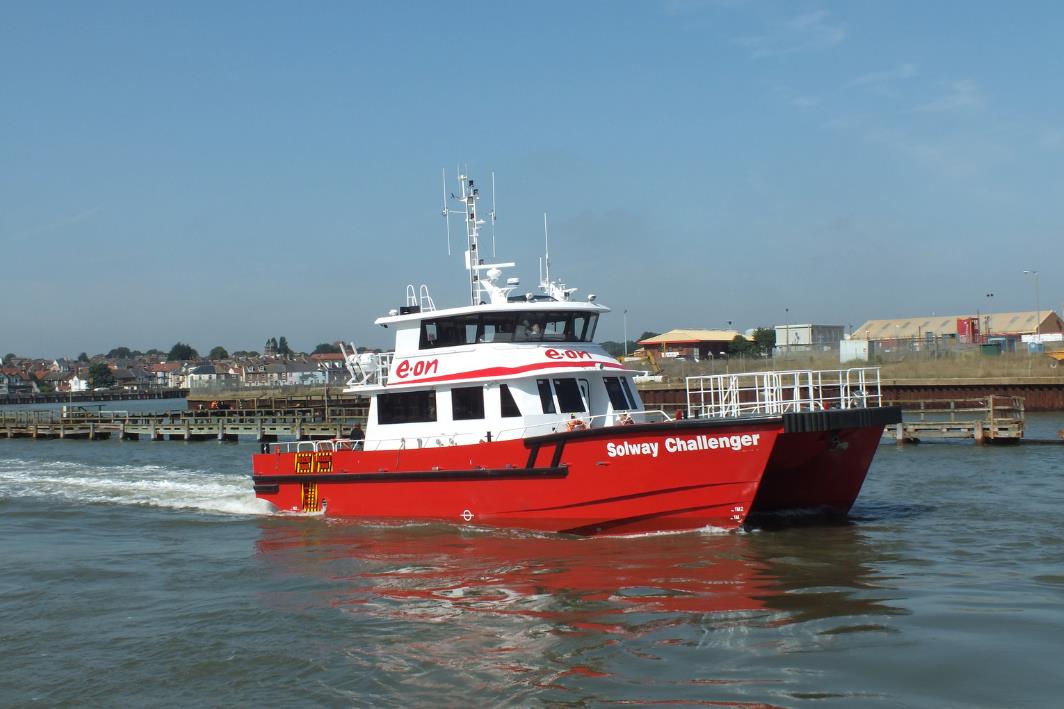 Three children from Northside Primary School in Workington have today attended a naming ceremony for a new Alicat vessel which is due to be deployed for operations at E.ON's Robin Rigg offshore wind farm.
E.ON tasked local pupils from the school to draw a picture of the workboat and pick a name from a shortlist. The lucky winner was Kelsie Walker who named the vessel Solway Challenger and won book vouchers donated by the energy company. The three pupils who attended the official naming ceremony were Ellie Weston, Nathan Hanrahan and Dylan Frazer.
Sally Shenton, Robin Rigg's former site manager, officially named the Solway Challenger and local Minister's Geoff Moore and Steve Axtell were also invited to bless the vessel ahead of its deployment.
The 19-meter Solway Challenger was built in the UK by Alicat Workboats and is now ready to commence full-service. The bespoke vessel, which is capable of up to 30 knots, will be used for long-term operations and maintenance work at the offshore wind farm.
Tim Morgan, Operations Manager at Robin Rigg, says: "Workboats such as the Solway Challenger are vital to ensure the smooth operation of off-shore wind farms, safeguarding the supply of electricity to thousands of homes across the UK.
"It's fantastic to get children from local schools involved in our projects, helping to raise awareness of wind farms and educate the next generation on the importance of renewable energy in reducing carbon emissions."
The Robin Rigg Wind Farm is located at the Prince of Wales Dock, Workington and features 60 turbines, providing enough electricity to power approximately 117,000 homes and offset around 230,000 tonnes of CO2 emissions each year.
[mappress]
Press release, October 25, 20103; Image:Alicat Workboats