The Netherlands: Heinen & Hopman Completes Installation Onboard Dolwin Alpha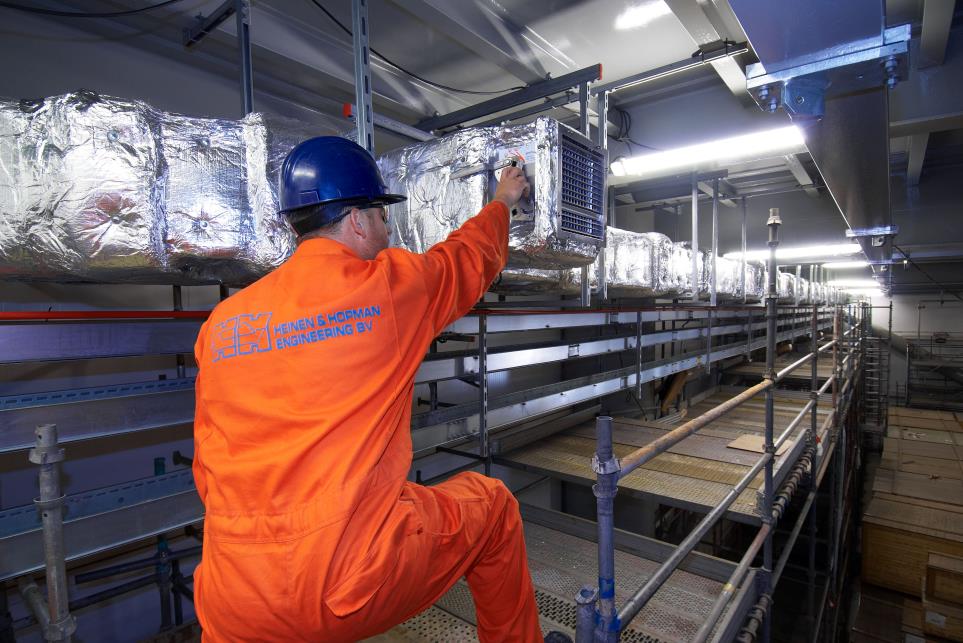 Heinen & Hopman in the Netherlands has completed the installation of a major HVAC system onboard the Dolwin Alpha offshore converter platform. Designed by IV-Oil & Gas, commissioned by Tennet /ABB and built by Heerema Fabrication group, the platform is now ready to be moved to the North Sea.
This challenging project involved the complete design and engineering of the HVAC systems, which Heinen & Hopman completed on time and to satisfaction.
Heinen & Hopman received the initial order from the Heerema Fabrication group to become the HVAC subcontractor for the Dolwin Alpha project in July 2011. The Dutch company was responsible for the complete design and engineering of the heating, ventilation, air conditioning and chilled water systems, as well as the supply of all pumps, appendages, control equipment and piping on this giant offshore converter platform. Built to convert energy generated by the offshore wind turbines installed in the German North Sea into high voltage direct current, the platform weighs some 9300 tonnes.
"This was both an exceptional opportunity and a significant challenge," comments Wim de Weert, who managed the project on behalf of Heinen & Hopman Engineering. "Dolwin Alpha is the largest converter platform we have ever worked on and even though it took years of planning and engineering, the delivery time was relatively short for the size and complexity of the project."
Heinen & Hopman has worked with Heerema on many occasions in the past and the level of collaboration has always been good. "All parties worked very hard on this project," continues De Weert. "At its peak, Heinen & Hopman had around seventy specialists working round the clock for six weeks to finish the project on time. It was an amazing effort on everybody's part."
The platform has now been transported to the Mammoet yard in Schiedam. Heinen & Hopman is also responsible for the maintenance and failure handling of the platform for the first five years of operation as it provides Germany with renewable energy.
[mappress]
Press release, June 04, 2013; Image: heinenhopman