USA: Cape Wind Opponents Against USD 4.3 Billion State Incentive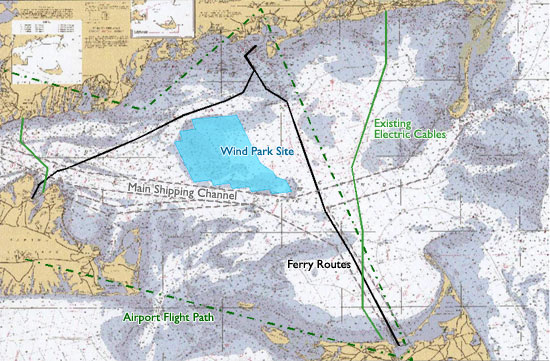 Cape Wind opponents are blasting the nearly $4.3 billion in potential taxpayer and ratepayer levies for the proposed Nantucket Sound wind turbine project in recent comments and public testimony before Congress.
During her testimony, Audra Parker, President and CEO of the Alliance to Protect Nantucket Sound, criticized the exorbitant and duplicative federal and state breaks available to Cape Wind, which could exceed the total cost of the project by billions of dollars. Parker also called for an independent assessment by the Government Accountability Office including a cost-benefit analysis of the project focusing on whether federal agencies short-circuited the review of Cape Wind in favor of a pre-determined approval.
Cape Wind is currently attempting to obtain a Department of Energy (DOE) loan guarantee for its estimated $2.6 billion dollar project.
Cape Wind has already secured massive ratepayer surcharges for over 75 percent of its power through above-market contracts that would be passed on to local households, municipalities and businesses. These costs could total $3 billion in added costs for Massachusetts ratepayers.
"Cape Wind is controversial, extremely expensive and ill conceived. It has been propelled forward by process shortcuts, bending of rules and political favoritism," Parker said. "Approval of this controversial DOE loan guarantee would be a terrible legacy. It would devastate the regional economy, sacred tribal grounds, and the environment. Moreover, Cape Wind threatens public safety, puts taxpayers at risk, and saddles Massachusetts ratepayers with billions of dollars in additional electricity costs, only to create manufacturing jobs overseas."
Cape Wind has established a disturbing pattern of outsourcing jobs to foreign countries, despite claims to create local jobs. It plans to use Siemens turbines from Germany, is working with the Bank of Tokyo to obtain financing, and recently reneged on an agreement with a local company, Mass Tank, to manufacture the foundations of its wind turbines – electing instead to go overseas.
 "State and federal incentives should be reserved for projects that support viable renewable energy in the United States – not projects like Cape Wind that exploit taxpayers and ratepayers only to benefit foreign suppliers and businesses," added Parker. "Cape Wind has done nothing but leave a trail of broken promises. The project would hurt tourism, cost the country valuable jobs, damage property values, destroy sacred tribal grounds and add billions in electricity costs."
Parker was one of four witnesses testifying in front of the Oversight and Energy Subcommittees of the House Committee on Science, Space, and Technology on April 16 to discuss the potentially disastrous consequences of duplicative and overlapping federal and state renewable energy subsidies for wind power – such as the DOE loan guarantee program. This is the same program that recently saddled US taxpayers with over $500 million as a result of the Solyndra solar plant failure.
"It is incredible that during the recent US government sequester and shut down of key government agencies and vital services, that DOE is considering giving a private developer hundreds of millions of dollars for a risky and expensive project that would devastate our most valuable Cape and Islands asset. Cape Wind would raise Massachusetts electric bills by billions of dollars while sending manufacturing jobs overseas," said Parker. "At an outrageous $4.3 billion package of federal and state incentives, Cape Wind's permanent 50 year round jobs would come at a taxpayer cost of $86 million per job."
Parker's congressional testimony is the latest in a decade long battle to stop the Cape Wind industrial plant, which poses enormous environmental, public safety and economic risks. Parker argued that Cape Wind is being proposed for an area of Nantucket Sound that should be permanently off limits to industrial development.
With five federal lawsuits currently pending and one victory already in federal court, the Alliance is confident the project will never be built
[mappress]
Press release, April 26, 2013; Image: capewind