Germany: GL Garrad Hassan Advises Mitsubishi Corporation on Successful BorWin Acquisitions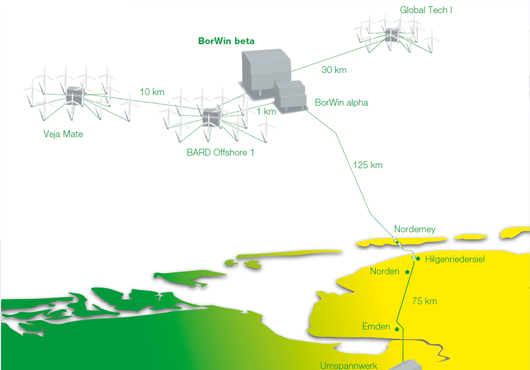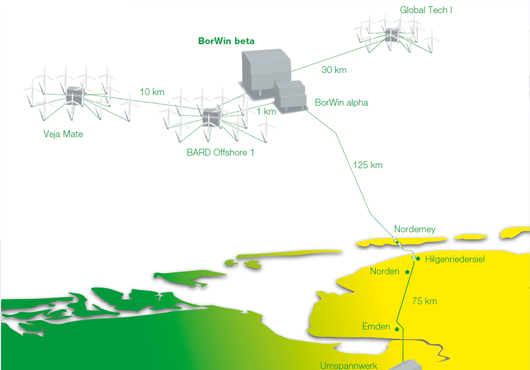 GL Garrad Hassan has acted as technical adviser to Mitsubishi Corporation (MC) on their recent acquisition of a 49% stake in the BorWin1 and BorWin2 German offshore high-voltage, direct current (HVDC) links.
The company acted as the sole technical advisor to MC providing due diligence assessment of the BorWin assets and follow on support to the MC team, utilising experts from across the company but in particular from the offshore and electrical groups.
MC, Japan's largest trading group, acquired a 49% share in the offshore transmission assets BorWin1 and BorWin2 from TenneT Holding B.V. in December 2012. Together these transmission assets represent 1.2 GW of electrical connection capacity available for German offshore wind farms. The links are provided using state of the art voltage source HVDC technology for BorWin1 and BorWin2, provided by ABB and Siemens respectively.
The projects are the first realisation of large scale offshore voltage-source converter (VSC) HVDC links, while the offshore substation designs represent a new technological interface between VSC equipment and large offshore platforms for the industry.
TenneT will retain majority ownership and will continue to operate the transmission assets. This partnership represents a milestone transaction in Germany, allowing infrastructure investors to take a financial stake in individual regulated offshore transmission assets.
[mappress]
Press release, March 20, 2013; Image: tennet