TenneT, Mitsubishi Jointly Invest in Four German Offshore Grid Connections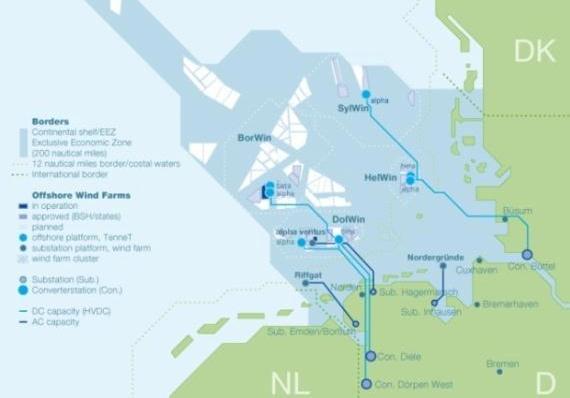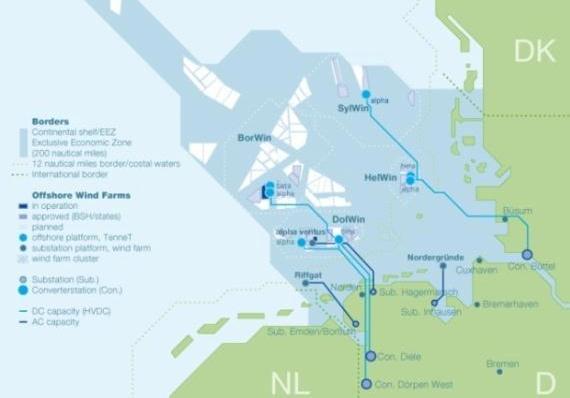 TenneT and  Mitsubishi Corporation officially closed their partnership with respect to two German offshore high-voltage cable projects, BorWin1 and BorWin2. Mitsubishi's voting interest will be 49% with aggregate maximum equity commitment of EUR 240 million. At the same time both partners signed a contract for an investment in two more offshore projects named HelWin2 and DolWin2 in which Mitsubishi also will acquire a 49% voting interest for a maximum equity investment of EUR 336 million.  
The planned high-voltage cables, involving a total investment of EUR 2.9 billion, will connect a number of offshore wind farms in the German North Sea to the onshore electricity grid and will have a combined total capacity of 2.8 gigawatt, representing close to 30% of the total ambition of the German Government for offshore wind in the North Sea.
Mel Kroon, CEO of TenneT: "This is an important step for our long term partnership with Mitsubishi Corporation. I am pleased that we managed to come to a final close shortly after the recent announcement of necessary improvements of the German Energy Law, which was enacted 1 January 2013. This is an excellent result of a constructive cooperation between our teams."
"The equity commitment of Mitsubishi Corporation is further strengthening our balance sheet and keeps us well on track when it comes to financing our offshore investments," says TenneT's CFO, Eelco de Boer. "These innovative transactions took two years to complete and were developed in close cooperation with the Bundesnetzagentur. They demonstrate that the German legal and regulatory regime is attractive to institutional investors."
Major contribution to energy transition
Currently TenneT is operating two and working on eight further projects to connect wind farms in the German North Sea. These essential infrastructure projects total to a transport capacity of 5.3 gigawatt of renewable electricity, equivalent to the consumption of 5 million households. With these projects TenneT has already committed an unprecedented amount of almost EUR 6 billion in offshore infrastructure and is with this the largest investor in the German Energiewende.
[mappress]
Press release, January 16, 2013; Image: tennettso