Germany: OMM Wins 3 Years Contract from TenneT Offshore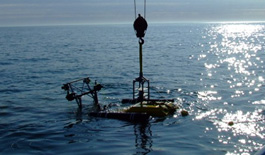 Marine solutions company, Offshore Marine Management (OMM) has recently been awarded a three (3) year survey frame agreement from TenneT Offshore GmbH. The Survey & Subsea department of OMM will fully support the agreement, which commences with immediate effect, from their Cambridge Operations offices in the UK.
OMM are one of several selected survey contractors to provide the German offshore utilities company with survey services in the form of call-off agreements within the German Bight sector of the southern North Sea.
Survey operations will include the following in respect of TenneT's existing and proposed subsea assets, both offshore and nearshore:
Cable route surveys (hydrographic, geophysical and geotechnical)
Site investigations
ROV visual surveys and depth of burial/subsea inspection surveys
Crossing surveys
LIDAR surveys
Laboratory testing
Final deliverables (reporting, charting GIS and digital video)
Upon the recent award, Arron Burrows, OMM's Director of Survey & Subsea commented:
"This three year award allows OMM to further cement their relationship with TenneT since 2009 in their previous guises as Transpower Offshore and Eon Netz Offshore. In this time, OMM have provided TenneT's general contractors with multiple offshore solutions in the form of cable installation and burial, cable pull-ins, ROV depth of burial surveys, platform inspection, crossing surveys and mattress installation, PLGR and guard vessel supply activities.
 OMM's Survey & Subsea department is gaining a growing reputation for quality and competent services provision for standalone client opportunities from our historical support of OMM offshore cable projects. This is a well deserved award to all the survey team at OMM, whose dedication and passion sets them apart from our competitors".
[mappress]
Press release, November 01, 2012; Image: omm