OWI-LAB: Room for efficiency, reliability and cost efficiency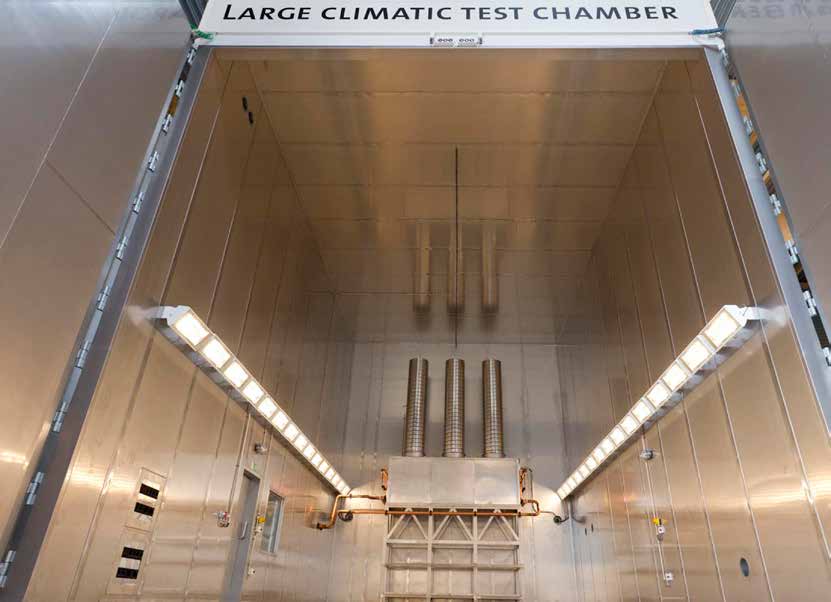 On 27 September, Offshore WIND was present, along with other press and 250 industry representatives, at the official inauguration of the Large Climate Test Chamber which forms part of the Offshore Wind Infrastructure Application Lab (OWI-Lab), strategically located in a warehouse on the Churchill Dock in the port of Antwerp, Belgium. This public testing and validation facility is an initiative of, and coordinated by the technology research centre, Sirris. This is their 4th application lab, following the Composites Application Lab, the Smart Coating Application Lab and the Microfabrication Application Lab.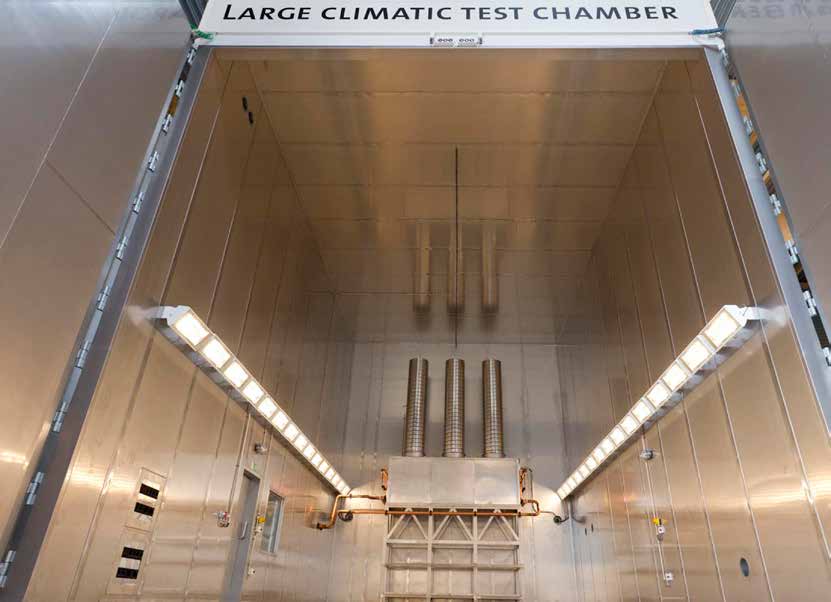 While the business men were taken on a boat tour of their own with presentations by Dr. Jos Beurskens (ECN) and Dr. Stefan lammens (ZF Wind Power Antwerpen NV), the press was in the meantime guided through the OWI-Lab test facility and its Large Climate Test Chamber by Pieter Jan Jordaens, Project Leader at Sirris. During the tour we were able to speak to several OWI-Lab experts about their involvement, such as BruWind, the Brussels Wind Energy Research Institute initiated last year at VUB.
The OWI-Lab is an R&D initiative started in 2008 combining both the industry, knowledge, and research centers, including CG Power Systems Belgium, ZF Wind Power Antwerpen NV (formerly known as Hansen Transmission), GeoSea/DEME, 3E, along with Agoria, the federation for the Belgian technology industry, innovation platform Generaties, Sirris and the Vrije University Brussel (VUB).
The initiative came in response to a sense of lack of proper public testing and measurement equipment for the fast growing, and, as yet, too expensive, European offshore wind market that is still in its infancy.
Testing of innovative technologies are vital to make turbines more efficient, reliable, and therefore achieve the ever so much needed cost reduction in order to reach grid parity and make offshore wind compatible to other conventional energy sources such as oil and gas.
The project kick-off was in 2010, followed by the official launch of the initiative on 1 January 2012. Today the project involves well over 20 companies and universities and is still growing. It involved an initial investment of €5.5m of which the Flemish Government contributed €4.8m. As Mr Jordaens explains, the project will no longer be dependent on governmental subsidies now that it is in operation, except, perhaps, for possible future expansion of test infrastructure which is already planned.
Inauguration
As a co-funder of the OWI-Lab, it was a representative of the Flemish Government, Kris Peeters, Minister-President of the Flemish Government and Flemish Minister for Economy, Foreign Policy and Rural Policy, who was present to officially inaugurate the OWI-Lab and open the Large Climate Test Chamber. In his speech he stressed the importance of the OWI-Lab platform and it's first test facility for Flanders, the heart of the offshore wind industry in Belgium where an estimated 9,000 wind industry related jobs will be created by 2020 as part of the country's renewable energy target of 13%. Offshore wind is expected to provide 1/3 or 1.6GW of this 13% renewable energy production in Belgium by then.
According to Mr Peeters, 'It is the industry of the future' and will help offering a solution to a possible energy shortage in the future, or in his own words the 'Ironing board' problem, jokingly referring to a situation where the electricity grid system can come to a halt when too many households are using the ironing board in the evening hours.
But the OWI-Lab is also important for the offshore wind industry outside Belgium. As Herman Derache, director of Sirris explains, "With our offshore wind farms situated far out at sea, having state-of-the art 6.5MW turbines installed in our waters, and more capacity planned in the near future, we are one of the fore runners in Europe." The OWI-Lab is a proud addition and will play an important role, not only for the local industry, but also for the international industry, by offering a specific test and monitoring infrastructure and by initiating innovation projects together with the industrial and academic players.
Infrastructure
The OWI-Lab initiative consists of 4 test and monitoring infrastructure programs. One is a LIDAR program, for which the OWI-Lab acquired a stationary LIDAR and developed a floating LIDAR system (FliDAR), on which tests are being carried out 15 km off the coast of Belgium. The FLiDAR is developed by 3E and OWA (Offshore Wind Assistance, a subsidiary of GeoSea) and is set up to provide developers with information to define the best location for wind turbines, to build up wind and weather models, and to measure the performance once in operation.
A second program concentrates on the development of tools for smart O&M strategies and a third program on setting up innovative remote measurement & monitoring systems (Structural Health Monitoring and condition monitoring). For the latter access has been provided to one of the turbines at Belwind offshore wind farm to perform a structural health monitoring campaign consisting of collecting data such as scour behaviour, corrosion monitoring inside the monopile and structural vibration monitoring.
For this research the OWI-Lab and its research partner VUB received a prize for the best scientific poster, called 'Damping Estimation of an Offshore Wind Turbine on a Monopile Foundation' by EWEA , during their annual event in April. "At this moment we are continuously monitoring the dynamic behaviour of the foundation and tower by a set of 12 accelerometers, the data is measured and transmitted to an onshore server were we collect the sensor data and additional parameters", says Christof Devriendt, academic research coordinator of OWI-Lab. "We use operational modal analyses (OMA) tools used by the aerospace industry to get better insights in the behaviour of these structures far out at sea." Next to that, other sensors installed in this turbine give feedback about the corrosion rate and loads on the foundation. A next step is gathering information about the drive train. The fourth program is the Large Climate Test Chamber, which was the topic of our visit.
Large Climate Test Chamber
During the tour we entered the 8m high, 7m wide and 10m long climate room, which, at the moment, is the largest climatic test chamber in Europe. The Minister and Mr Derache symbolically opened the large doors giving us full view of the frost-misty inside of the climate room with in the middle an ice sculpture of the OWI-Lab logo. At the time of our visit the inside temperature was a freezing -20°C. To protect us from the cold everybody was supplied with a small blanket before entering.
Here small and large turbine components of up to 150t can be stress-tested under simulated extreme climate circumstances between -60°C and +60°C. The air temperature can be lowered from +60°C to -40°C in one hour. Of course it takes longer when a steel gearbox weighing lOOt with 3t of oil is being tested, for example, Mr Jordaens explains. This will last approximately 60 hours to reach -60°C in the core of the test specimen starting at room temperature. The floor inside the chamber is able to hold 30t/m2 which is unique in the world. At this moment the project team is looking into additional investments like humidity control for example.
Typical testing activities in the test facility include design verification testing (DVT) and component validation. Thirty to forty test campaigns can be performed annually. All sorts of components, mechanical, hydraulic or electrical, can be tested, including gearboxes, transformers, hydraulic units, lubrication units, generators and pitch and yaw systems of the next generation 10 tot 12MW turbines. Tests can take from 3 days up to 3 weeks depending on the test specimen. A flexible power supply unit and different cable connections in the housing of the chamber enable tests to be performed with different values of currents, voltages and frequencies.
"During a test campaign mobile power auxiliaries can be rented from a partner nearby the facility", says Mr Jordaens. The maximum power capacity of one mobile generator is 1MVA, but these generator units can be installed in parallel in order to supply more client specific power up to 2, 3, 4,… MVA with currents at 50hz or 60hz. The test lab will also contain an induction motor to drive gearboxes and generators in no load conditions.
This additional test infrastructure is needed to do cold start tests of these components. When, for example, a gearbox undergoes a cold start scenario at -40°C, oil becomes viscous. "We test to see if the lubrication units, heating systems and bearings still perform well during such a cold start scenario", he explains. Electrical components like transformers are also tested in warm and cold settings. An example of this is a short circuit test at -20°C to observe the power losses.
Being located in the port of Antwerp, near the DP World break bulk terminal, it is no problem to transport large and heavy components to the facility. Outside, the quay has a load capacity of 45t/m2. There are several lifting options available such as 2 cranes with each a load capacity of 150t, a SPMT (self propelled modular trailer) and a roll trailer which is be designed to operate at -60°C. Components are loaded on this trailer and are then moved inside the test chamber: quick and easy. Positioned just outside the facility there is the mobile power supply unit capable of providing whatever power is required during the tests.
Future perspective
The climate room is important for the testing of both on and offshore wind turbine components. Onshore turbines can be found in remote places with extreme climates such as desserts or in extreme cold regions (Canada, Finland, Mongolia,…). For offshore wind turbines the climate room is especially important as failures in turbine components are so much more costly to repair compared to onshore turbines. Testing the behaviour between -10°C and +40°C of components makes sense for these offshore turbines. Mr Jordaens, "We can check if certain tolerances or new materials used in a prototype design don't suffer too much from certain cold and heat. Materials shrink and expand, of course, due to temperature, and this can have its effects on the whole system. Thorough testing and certification in the early stage of the development can prevent unnecessary costs once the turbine is on location and in operation."
At that time the climate room was being prepared for its first commissioning test. CG Power System's transformer would be tested at -10°C the very next day. Also planned for testing is a gearbox by ZF Wind Power Antwerpen NV. According to Mr Jordaens talks are also underway with known turbine manufacturers at the moment. In the future they hope to provide multi-environment testing on components: temperature, humidity and vibrations at the same time. When fully operational by the end of the month the climate room could also be used for testing components from other industries such as the aerospace industry and wave & tidal energy industry for example.
The OWI-Lab also functions as a platform to support and initiate other offshore wind related initiatives, either local or even European. OWI-Lab is, for example also actively supporting the innovation R&D project, OptiWind, which was recently approved. Six partners (3E, LMS International, Sirris-OWI-Lab, VUB, UGent, KU Leuven) will join forces in a 3 year project looking into 'Serviceability optimization of the next generation offshore wind turbines'. Other R&D projects initiated are HighWind, which is promoting efficient and less weather-dependent turbine installations, and the feasibility study 'Flanders Wind Farm', an offshore test site in Belgian waters where new foundations and turbines can be tested before they are made commercially available and, as the Minister concluded, there is still some money left for innovative initiatives!
Sabine Lankhorst