UK-Ireland Interconnector Officially Opens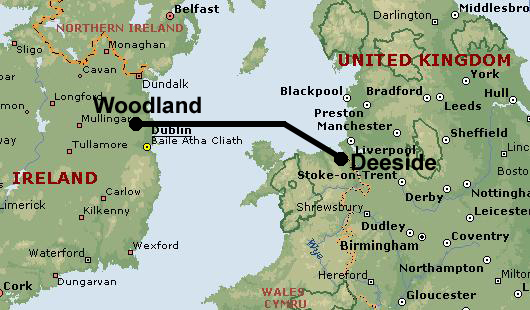 Secretary of State Edward Davey yesterday joined An Taoiseach Enda Kenny, Ireland's Minister for Communications, Energy and Natural Resources, Pat Rabbitte, and EU Energy Commissioner Gunther Oettinger to open officially Ireland's first electricity link to Great Britain.
The EirGrid East West Interconnector runs between Deeside in north Wales and Woodland, County Meath in Ireland. Approximately 260km in length, the underground and undersea link has the capacity to transport 500 megawatts – enough energy to power 300,000 homes.
The EirGrid Interconnector will carry electricity both ways, benefiting consumers by helping to improve security of supply, increase competitiveness and to encourage the growth of renewable energy generation.
Speaking about the Interconnector, EirGrid Chief Executive Dermot Byrne said:
"The Interconnector ties our energy markets closer together. It gives all concerned additional assurance of supply and it is the single most important step in allowing Ireland to exploit and to export its enormous resources of renewable energy. Critically it also allows us to access energy from Britain and from across the European continent which will result in more competition to the energy market and put downward pressure on prices."
Ed Davey praised the project saying:
"The East West Interconnector is not just an impressive feat of engineering – 186km of sub sea cable laid and ready to operate within just three years of receiving planning permission.
"It also brings multiple benefits to the British and Irish economies. This new connection between our electricity grids will improve our mutual energy security, it will improve competition – bearing down on the price ultimately paid by consumers – and it will allow more of Ireland's abundant wind energy access to the massive UK customer base.
"I congratulate everyone involved in this project and look forward to seeing it deliver for both our nations."
Trading on the Interconnector will commence on October 1st 2012.
[mappress]
Press release, September 21, 2012; Image: ABB