Germany: SMM 2012 Ends with Good Impressions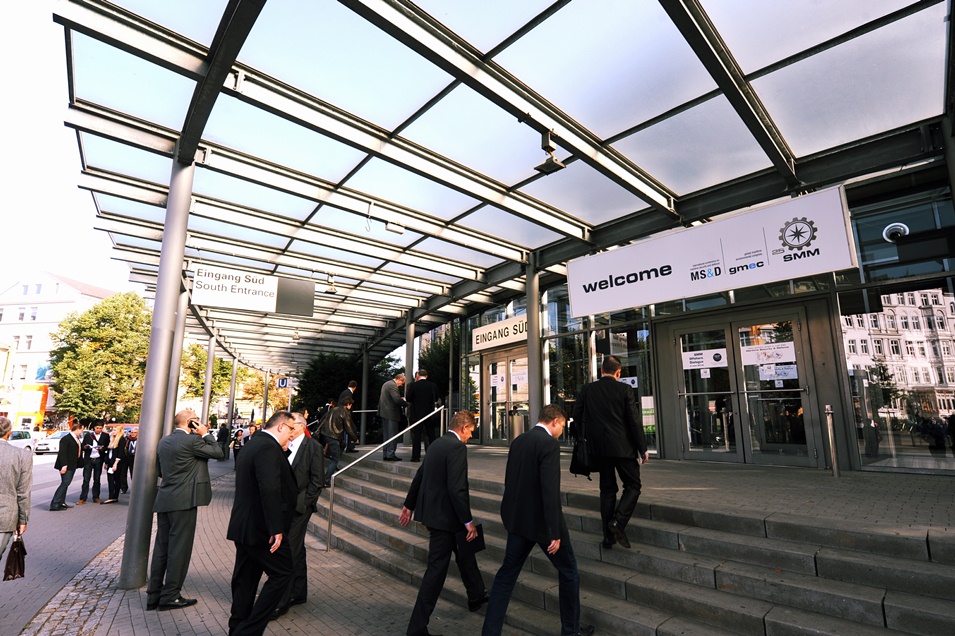 The exhibitors were satisfied, and there were streams of trade visitors from all parts of the world – SMM impressively confirmed its position again, as the number one stimulus event for the maritime industry in 2012.
The 25th shipbuilding, machinery & marine technology international trade fair hamburg ended on 7 September, after four days of action with 2,100 exhibitors and more than 50,000 trade visitors, including numerous international delegations and representatives from government and the scientific community – the most successful SMM yet. "We are of course delighted that our anniversary event met with such a fantastic response," said Bernd Aufderheide, President and CEO of Hamburg Messe und Congress GmbH (HMC), adding that the high level of interest showed how important it is, especially in times of economic difficulty, to exchange ideas, to present products and services, and to highlight innovations. "SMM is the ideal platform for that," he said. "SMM has set clear signals for the future, and has completely met the expectations of the industry as the leading trade fair for the maritime industry. Good business was done at SMM. Our customers took orders for new ships and for marine equipment."
The largest group of visitors was from shipowners and shipping companies, followed by the shipbuilding and shipyard industry, and machinery and plant builders. The naval and defence industry moved up to fourth position. SMM 2012 had 35% of its trade visitors from abroad, up two percentage points from the previous SMM. The share of Asian visitors was double the number at SMM 2010, now 16%.
 Great interest, great expertise
A total of 90,000 square metres of exhibition space was available for the companies. "Our baby has grown up a lot," said a delighted Jürgen Witte, Chairman of the Hamburg Association of Marine Engineers (VSIH). The Association is a concept supporter and founder of SMM, which started out as a small internal event, with some 35 members exhibiting in 1963, and has grown into the most important showcase of the maritime industry worldwide.
"The tremendous appeal of the event for international participants was very striking, especially participants from Asia," said Dr. Alexander Nürnberg, Managing Director of Hatlapa and Chairman of the Working Group on Shipbuilding and the Offshore Supply Industry in the German Engineering  Federation (VDMA). He noted that, despite cautious forecasts for new building of ships, equipment suppliers were confident of achieving satisfactory sales in the coming years, thanks to interesting solutions for ship operation.
Bernard Meyer, CEO of Meyer Werft and Vice President of SEA Europe (Ships & Marine Equipment Association) underscored the close relationship between SMM and the major specialist events such as gmec, the global maritime environmental congress – "SMM is the top event for the maritime industry worldwide. Hamburg is the meeting place for all the relevant shipbuilders, shipowners and suppliers, to discuss new technologies and innovative ship projects and to take action. And gmec has once more given vital stimuli for implement­ation of new propulsion technologies and more efficient forms of energy generating on board."
The shipowners see SMM as a unique opportunity to keep up with the latest state of the art, at a dedicated event. "Rising fuel prices have always been an incentive for efficient propulsion systems and smart ship design. But today, the general objective is to make shipping as clean as possible. These innovations are driven by tougher environmental standards, and also the desire of many shipowners to use green technologies," said Michael Behrendt, President of the German Shipowners' Association (VDR) and CEO of Hapag-Lloyd.
At difficult times like these, it is particularly important to look forward, said Werner Lundt, Managing Director of the German Shipbuilding and Ocean Industries Association (VSM). "The industry has to present itself really well – a trade fair is for marketing, and marketing is the future."
 Focus on efficiency and environmental protection
"It was clearly evident at SMM 2012 that the shipowners have to invest in a green future, more than ever before. Everywhere in the maritime business and industry there are new products and processes, aimed at increasing energy efficiency and reducing emissions – for individual ships and for whole fleets," observed Torsten Schramm, Chief Operating Officer at Germanischer Lloyd and gmec Chairman.
Many of the exhibitors were able to score points here with innovations and carefully tailored products – "This is not so much about newbuildings," said Dr. Stephan Timmermann, Management Board member of MAN Diesel & Turbo, an engine manufacturer, "but more about new ways to cut operating cost." The goal was to achieve a lot without spending a lot of money, for example by retrofitting engines or propellers. An example of that is Alphatronic 3000, a product from MAN which enables automatic coordination of engine speed and propeller.
Efficient machinery control and reduction of the workload for the crew are the goals for Kongsberg, a Norwegian company. Uwe Frenz, CEO of Kongsberg Maritime, closed a deal at SMM with a shipowner for outfitting of two newbuildings with a complete switchgear system with integrated automation system, Type K-Chief 600. And business deals were also reported by Dirk Lehmann, CEO of Becker Marine Systems – "We sold numbers 298, 299 and 300 of our Mewis Duct at SMM." The customers for this system for propulsion improvement were an Italian shipowner and a Greek shipowner. SAM Electronics presented automation and navigation systems, and also a solution for shore electricity supply housed in container format. "We are more than satisfied with the results of the fair as a whole, said Ulrich Weinreuter, CEO. "The projects negotiated here give us a positive outlook for the future."
Reduction in fuel consumption also means reduction in emissions. To comply with the new international regulations ("Tier 3"), the industry will also have to get nitrogen oxides and sulphur under control. "LNG was a much discussed subject at this SMM. MTU is among the companies investing in the development of LNG engines for mobile operation, and examining what the market needs," said Christos Ramnialis, Executive Vice President for Engines and Propulsion Systems at MTU Friedrichshafen GmbH.
Tor E. Svensen, President of Norwegian classification society DNV, confirmed that LNG was the preferred option specifically for smaller ship types operating in ECAs (Emission Control Areas).
Ballast water management is another subject of vital interest to the industry. Companies like Alfa Laval, RWO and Mahle have designed solutions which enable shipowners to meet the future IMO requirements. Within just a few years, tens of thousands of ships worldwide will need retrofitting. "SMM is the ideal place for customers to find out what the market has to offer," said Peter Scholz, Sales Manager Shipping at Mahle Industry.
 Offshore drives innovation
The importance of the offshore segment for the shipbuilding industry was underscored by selection of the "ship of the year", which took place in accordance with tradition at the stand of the Norwegian Marine Exporters. The winner was the offshore platform supplier "Fair Solitaire", built by STX OSV Langsten in cooperation with Rolls-Royce Marine. The ship is characterised by its capacity to carry a larger quantity of chemicals and toxic fluids. "The offshore market is more than a niche – it is the innovation and technology driver for the whole of the industry in Norway," said Ole Henaes, Director General Norwegian Maritime Exporters (NME).
Offshore supply vessels and wind farm installation ships were also the subject for Dr. Martin Füllenbach, a member of the Management Board of propulsion system specialist Voith Turbo. "Voith Inline Thruster" is an innovative transverse thruster system, designed principally for dynamic positioning. Füllenbach said: "The people who come here know what they are talking about."
The offshore segment sets high standards, for example in the products of shipyards such as Nordic Yards. "SMM is the ideal platform for Nordic Yards to present itself to an expert international audience, as a maritime system integrator," said Dr. Günter Sens, Senior Vice President Sales and Project Design.
 New focus on security
Security and defence was an integrated part of SMM 2012 – MS&D, the International Conference on Maritime Security and Defence, was held on the occasion of SMM, attracting high-ranking navy representatives to Hamburg. That was a real benefit for companies such as Lürssen shipyard. "The combination of SMM and MS&D is ideal for us," said Sales Manager Jörg Ahrens. The shipyard had prepared its stand specifically to appeal to navy customers. An exhibit that was particularly attractive to navy delegations was a new design of patrol boat, which features smart combination of civil and military standards, and can thus be built more quickly and at lower cost.
New exhibitor LexGabinia presented a sophisticated system for protection against pirates. Its CEO Sven Fürus said: "The response was extremely positive."
 Global orientation
Once again, international participation at SMM was very strong. "We are very satisfied. SMM is a world-class fair, making an ideal contribution to networking between shipbuilders and equipment suppliers," said Nick Yang, General Manager Sales & Marketing at Qingdao Qiyao Wärtsilä MHI Linshan Marine Diesel Co., a subsidiary of the China Shipbuilding Industry Corporation. Yang stressed in particular the excellent quality of the European marine equipment suppliers.
Oh-Yoon Kwon, General Manager of the Korea Shipbuilders' Association KOSHIPA, which represents global players such as Hyundai, STX and Hanjin, praised the outstanding networking between shipbuilding, equipment suppliers and customers – "SMM is a thriving event, because it gives better opportunities than anywhere else to meet the main players."
 Yukinobu Fujimoto, Vice Chairman of the Japan Ship Machinery & Equipment Association (JSMEA), stressed the importance of high-tech in shipbuilding – "Ships are assets which have to generate earnings over a long period. And in the long term, only good quality will pay off." He added that Japan's maritime cluster has a great deal to offer, and is naturally taking the opportunity of presenting itself at SMM.
More than 30 countries presented their activities in national pavilions. "We are making a joint presentation here in a national pavilion under the patronage of the General Secretariat of Istanbul Exporters", said Savas Cap of Sefine Shipyard, a Turkish builder. "That gives us more visibility, and makes it easier for us to meet customers and suppliers from the marine equipment industry." He noted that repair orders are currently a main focus of Turkish shipbuilders.
India's maritime industry also flew the flag at SMM – "This trade fair is an outstanding platform for meeting customers and getting new leads. We have held plenty of talks, and are very pleased with how this event has gone," said R.K. Kalra, Vice President Indian Register of Shipping (IR CLASS), in summary. "We also look forward to meeting our customers again at SMM India."
 Extensive supporting programme
SMM has a varied supporting programme, with some 150 conferences, meetings, workshops and receptions. The four high-powered international conferences on the key subjects of the industry were well attended throughout, giving rise to lively and fruitful discussions, and putting forward possible solutions for the pressing issues of the maritime industry.
The first of these events was the SMM Ship Finance Forum on the day before SMM, with some 150 participants, including numerous shipowners from Germany and abroad, with animated discussions of alternative financing possibilities under the heading of "Tomorrow's Champions".
This year's gmec, global maritime environmental congress, was a full success with some 300 participants, and lively discussions. see gmec Closing Report
The integration into SMM of MS&D, international conference on maritime security and defence hamburg, proved to be the right step for the maritime industry, showing the way forward. There were some 250 international participants, including 14 military delegations from Asia, Africa, Europe and South America; they used the conference for exchanges of knowledge, and they used SMM to get direct information on the technical aspects. see MS&D Closing Report
Interest in the SMM Offshore Dialogue, addressing Offshore Oil & Gas and Offshore Wind, was particularly strong, with a total of 450 participants. It featured eminent speakers and excellent panel discussions, leading to controversial but constructive discussions. The SMM Offshore Dialogue was supported by the Federal Ministry of Economics and Technology.
Numerous companies have already announced their presence at SMM 2014, and there was lively interest in the international offshoots of SMM Hamburg, that is SMM Istanbul and SMM India.
SMM 2014, 26th shipbuilding, machinery & marine technology international trade fair hamburg, will be held at the Hamburg Fair site from 9 to 12 September 2014.
[mappress]
Press release, September 10, 2012; Image: smm