Eight-Year-Old Names Latest Alicat Vessel (UK)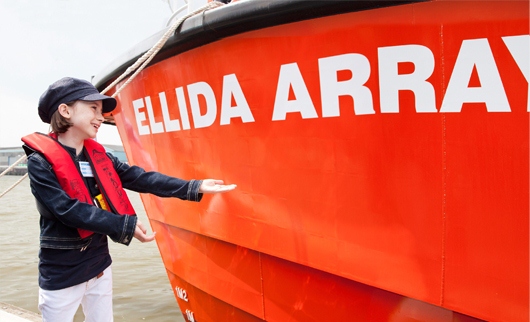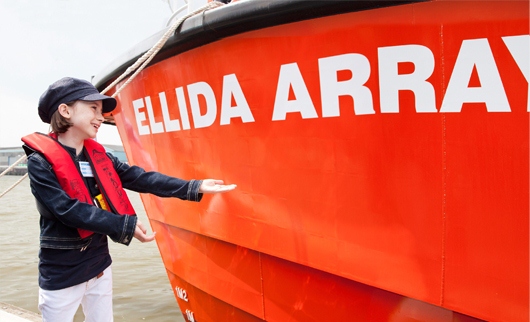 For eight-year-old Cerys Jones it was the thrill of choosing the name for the newest Alicat Workboat built in Great Yarmouth – for the company it was the latest leg in a £10.5m contract to provide crew transfer vessels for the London Array windfarm.
Thanks to Cerys, the new boat will be called Ellida Array and the schoolgirl and her family were guests of honour for the name unveiling and blessing at Trinity Quay, Great Yarmouth.
The 18m catamaran will shortly start work off Kent, the third and final Alicat to be chartered by London Array, through Gardline, to work alongside sister vessels Marianarray and Smeaton Array on a round-the-clock 3-5 year contract.
The trio of boats, two equipped with Mann engines and Rolls Royce jet units, and one with Caterpillar engines and fixed propellers are the most advanced yet to be produced by Alicat.
The Ellida Array is the 11th Alicat to be built in Great Yarmouth over the past two years and another four are presently under construction.
Kent schoolgirl Cerys came up with the name in a competition for youngsters. She chose it because in folklore, when the Vikings landed in Kent, Ellida was the name given to the first Viking to step ashore. It is also the name of a moth.
Michael Martins, Gardline Coastal Services business manager, said he was impressed by the research Cerys put into her choice: "We had many great suggestions but Ellida Array stood out for its historical connection and the imagination of being named after a moth which also harnesses windpower."
Cerys and her family were joined by the Mayor of Great Yarmouth, Colleen Walker, and Shelby Allen, 8, representing Greenacre School, Great Yarmouth, one of 12 local primary schools in the Gardline Travelling Teddy Bear project which encourages youngsters' interest in the wider world.
All the guests enjoyed a trip on the Ellida Array to one of the Scroby Sands turbines before the girls were treated to more traditional rides at Great Yarmouth's Joyland, courtesy of owner David Cole.
"It was all great," said Cerys, afterwards. "I never dreamed I would see the name on a real boat." Now she will be pointing it out to all her friends and family whenever it sails in to Ramsgate."
Before the sea trip, the vessel was blessed by the Rev Peter Paine, chaplain to Gardline.
[mappress]
Offshore WIND staff, June 11, 2012; Image: tms-media