Sure Wind Marine Orders Four 19,5m Catamarans from Lately BLRT Marketex (Estonia)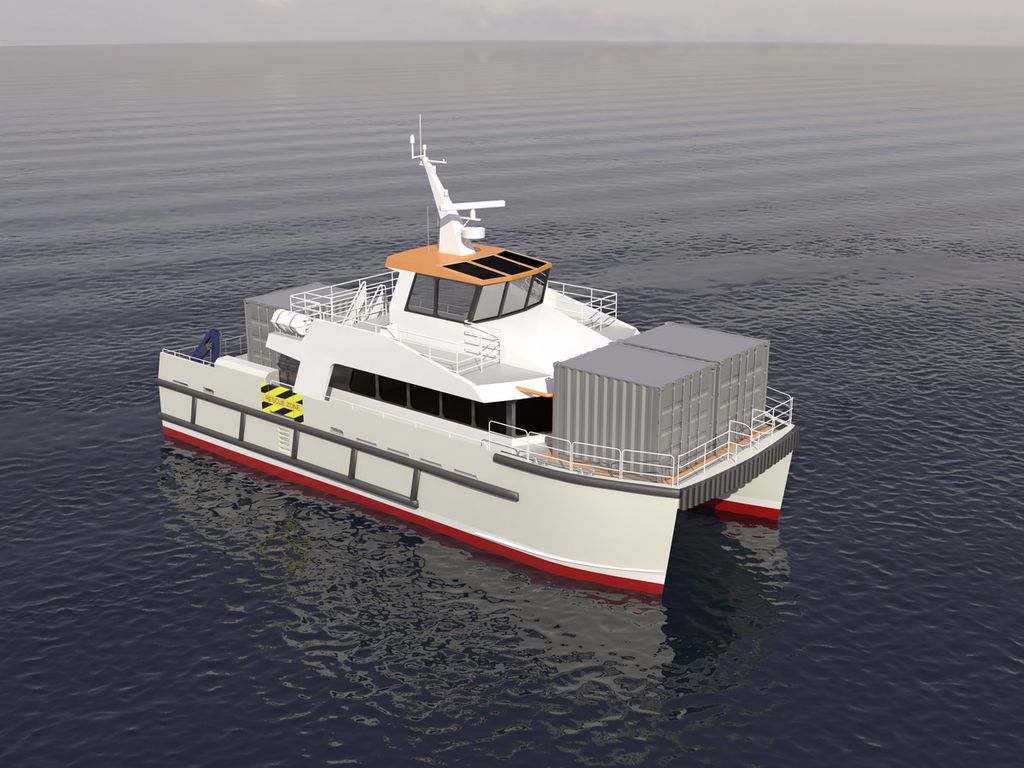 Lately BLRT Marketex and Sure Wind Marine Ltd entered into contract to build four 19,5 m wind farm catamarans.
The catamarans are available for projects throughout Europe and built to DNV class and dual UK MCA and German Stability rules to ensure full flexibility. "This is first major contract for BLRT Marketex in wind farm service industry, which marks a new stage in development of our company. Our extensive experience in small vessels´ building gives us the strong confidence in success of this project. We strongly believe in potential of this growing industry and are proud to build boats in close cooperation with experienced operators and designers to achieve best performance" said Vladislav Markin, head of BLRT Marketex shipbuilding division.
 Dominic Abraham MD of Northumberland based Sure Wind Marine said "We are very pleased to be building vessels at such a well-equipped yard with an experienced team. The team has developed a flexible vessel capable of working throughout Europe in a range of conditions and roles. The vessels are designed with proven technologies emphasizing reliability, efficiency and operational range and rely heavily on Incat's experience from earlier designs. The increased size over previous Incat designs allows for extra passenger comfort and space as well as 14 tonnes of cargo capacity."
The vessels are designed by Incat Crowther of Australia in accordance with Det Norske Veritas/+1A1-HSLC-R2 Wind Farm service 1 rules, UK MCA SCV, Category 2 and are compliant with German Flag State requirements. The vessels will be equipped with twin MTU 8V2000 M72 engines (720 kW each), which will allow the boats to reach a maximum speed of 31 knots and a service speed of 26,5 knots at 85% MCR. The first boat will be delivered early May 2012 with each subsequent vessel delivering at 1.5 month intervals.
Sure Wind Marine Ltd is UK company based in the North East of England which operates a fleet of vessels focused on meeting the needs of Offshore Wind Farm developers and other companies involved in offshore construction projects. Established 2009, Sure Wind Marine is a high quality provider of innovative, value-added solutions to the offshore wind industry and offshore construction industry throughout Europe. Solway Maritime is the group's ship management arm which manages and audits crew transfer vessels for third parties.
Incat Crowther is a naval architecture firm offering a diverse range of solutions for demanding applications, with an emphasis on efficiency, reliability, safety and practicality. With a history of design awards and technological firsts, Incat Crowther has a proven culture of integrating innovative technology into well proven design and engineering processes.
BLRT Marketex is one of the leading shipyards in the Baltic States which offers advanced solutions for small vessels building as well as for large sized projects from steel, stainless steel and aluminum. The company has more than 10 years of experience in manufacturing of feeding barges for fish industry, service catamarans, complex components for the offshore oil and gas production sector and offshore wind industry as well as offers turnkey solutions with hydraulic, mechanical and electrical assemblies. BLRT Marketex is a subsidiary of Estonian industrial holding BLRT Grupp which is widely known since 1912 as a shipbuilding and ship-repair company. BLRT Grupp now includes 79 companies.
[mappress]
Offshore WIND staff, November 29, 2011; Image: bsr