AREVA Unveils Extension of its M5000 Product Platform (Germany)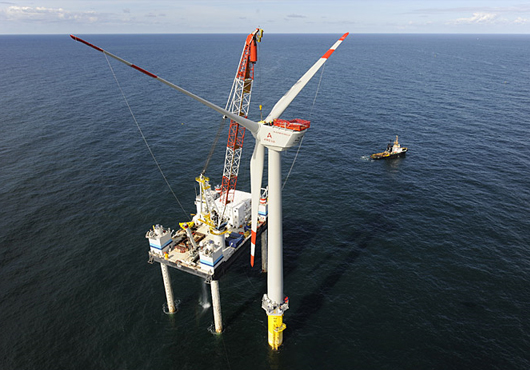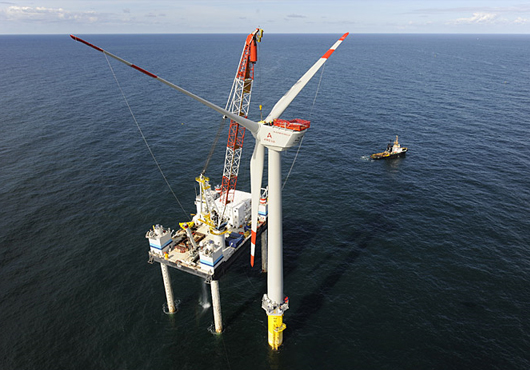 AREVA Wind proudly unveiled the latest product extension of its M5000 product platform: the M5000-135. The M5000-135 enhances the M5000's proven technology with a new 135m-rotor. The design of the M5000 turbine, which is exclusively designed for offshore conditions, is a unique hybrid drive solution combining best-in-class quality standards and unique offshore services to meet customer needs.
 AREVA Wind General Manager Jean Huby explains: "Lowering the cost of energy in relation to offshore wind energy output is essential for the industry. By introducing the M5000-135 and its improved performance, AREVA is making a major contribution to making offshore wind energy more competitive."
The M5000's high reliability and availability have already been displayed, notably on the alpha ventus pilot site in the North Sea off Germany's coast. The new 135m rotor diameter, combined with a light design and an improved nacelle, reduces the cost of energy while maximizing customer revenues. Additional improvements, such as better serviceability through condition monitoring atop the machine's built-in system redundancies, provide further benefits to customers in the form of increased reliability and length of life.
With the 66m-long flexible offshore blades—10m longer than the M5000-116—the M5000's swept area will increase by 35% to 14,326m². The new light nacelle design, adapted to harsh sea conditions, offers simplified maintenance work and optimized health and safety.
With this enhancement on top of its proven and dependable platform, the M5000-135 is a mix of high performance and reduced risk, making it an obvious choice for the next wave of installations in the 42GW European offshore wind market. The M5000-135 will also provide significantly higher energy at lower wind speed sites, while remaining an ideal fit for the harsh conditions of high wind speed sites.
The M5000 platform is part of AREVA's compelling offshore wind offer, uniting a unique logistical solution that simplifies customer interfaces; high-quality standards, such as AREVA's one-of-a-kind full load testing approach; and a tailor-made service offer.
[mappress]
Offshore WIND staff, November 29, 2011; Image: areva