Anholt Offshore Wind Farm Gets Local Port Agency (Denmark)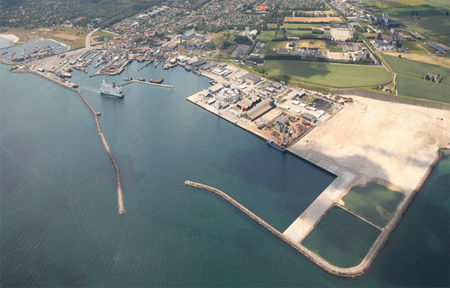 Local Port Agency Oestship – 100% owned by Blue Water Shipping – is to act as port agent and 24/7 one-point-of-contact for the operators for the Anholt Offshore Wind Farm in Grenaa.
"Grenaa is to be used as the main port of operation and we are the one-point-of-entry for all marine related services locally in Grenaa", states office manager Frank Larsen. "we are looking forward to service the many operators from our local office 24/7 and with the local knowledge from Oestship and global experience from Blue Water we have a unique setup".
Oestship was bought late 2010 by Blue Water Shipping, who has 52 offices globally among others in France, UK, China, Singapore, Spain, US and Esbjerg and among other handles more than 700 port calls per year and 250 port operations on behalf of some of the major players in the offshore wind industry.
Blue Water Shipping also earlier this year announced the joint venture BlueWaterDanbrit for their UK operations.
[mappress]
Source: oesthip, November 08, 2011; Image: bws