Apex and Maersk to Collaborate on Offshore Wind Energy (USA)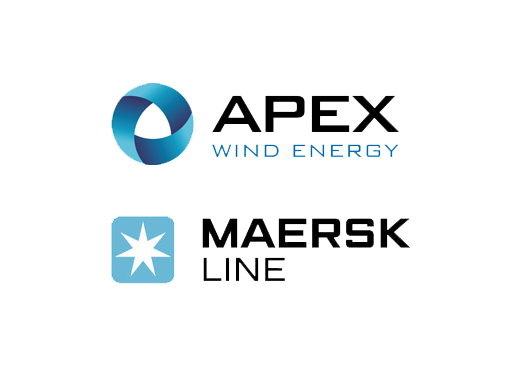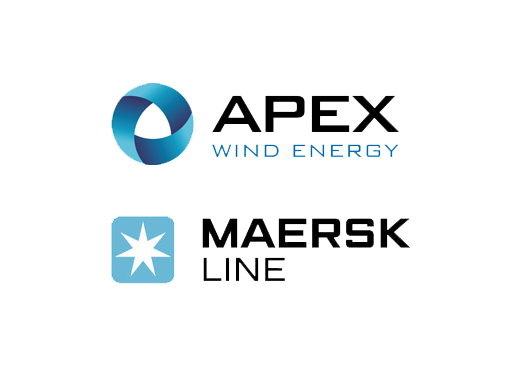 Apex Offshore Wind, LLC and Maersk Line, Limited today announced that they have established a working relationship to support the development, financing and construction of utility-scale offshore wind energy facilities in North America.
Maersk Line, Limited (MLL) is a subsidiary of A.P. Moller-Maersk, a global corporation with a long history of successful operation in offshore energy. MLL has decided to partner with a reputable offshore wind energy firm to collaborate on the development of potential wind energy projects. MLL views offshore wind energy as a way for the company to expand its existing portfolio of maritime technical and transportation services and to build upon its commitment to environmental sustainability. "MLL has chosen to partner with Apex Offshore Wind to speed the process of bringing offshore wind to North America," said Greg Moore, Vice President of Business Development at MLL. "In Apex, we've found a partner that shares our values and entrepreneurial spirit, and that is committed to bringing this promising new energy resource to the continent."
The Apex Offshore Wind management team has been working to develop offshore wind energy projects in North America for over 9 years. Apex sees significant potential for the industry's growth and supports the U.S. government's vision of an offshore wind energy sector capable of providing 54 gigawatts of clean domestic energy by 2030. Tim Ryan, President of Apex Offshore Wind believes that "to meet these ambitious goals, the rapid growth of the offshore wind energy industry in North American will require maritime players with significant experience, scale and resources, and a reputation for quality, responsibility, and safety. Maersk Line, Limited brings all of those vital elements into this collaboration."
 About Apex Offshore Wind, LLC
Apex Offshore Wind is a subsidiary of Apex Wind Energy Holdings, LLC, which was established in early 2009 by the founders of Greenlight Energy. The Apex management team has been involved in the development, financing, construction and/or operations of over 5,000 megawatts of wind energy facilities now operating in the United States. Apex, based in Charlottesville, Virginia, is developing land-based wind projects in several states and offshore wind projects in Lake Erie and in the Atlantic Ocean.
 About Maersk Line, Limited
Maersk Line, Limited is an American company, based in Norfolk, Virginia, that provides U.S. flag transportation, ship management and technical services to government and commercial customers. As a business within the A.P. Moller – Maersk Group, MLL customers rely on MLL's unparalleled experience, maritime expertise and global intermodal capability. MLL seeks every day to build greater trust in its maritime and transportationservices and to strengthen the partnership with its customers for years to come.
[mappress]
Source: apexwind, October 07, 2011