Ørsted's 'First' Hybrid CTV Inaugurated
EMS Maritime Offshore (EMO) has inaugurated WINDEA One as the "first" hybrid crew transfer vessel (CTV) that will be deployed on Ørsted's wind farms offshore Germany.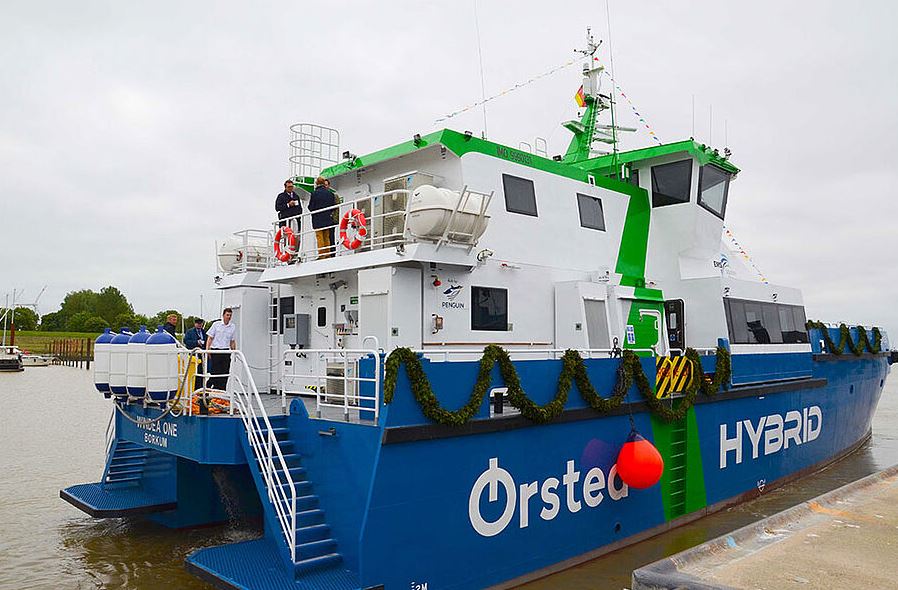 Ørsted will use the CTV for the maintenance of its own wind farms, Borkum Riffgrund 1 and 2 and Gode Wind 1 and 2 in the North Sea.
The new vessel was commissioned from the Penguin shipyard in Batam, Indonesia, and is based on the design by the engineering company Incat-Crowther.
WINDEA One is 31.9 metres long, 10 metres wide, and has a draft of 1.8 metres. There are four Volvo engines on board, which deliver a total of 2,060 kW.
Two of the motors are connected to Volvo-Danfoss electric motors, each with an output of 180 kW, which are powered by EST Floattech batteries.
The CTV can reach a maximum speed of 28 knots and can be operated purely electrically for up to six hours, EMO said.
There is also the option of switching to biofuel and using "so-called hydrogenated vegetable oils (HVO) instead of diesel", Ørsted said.
The crew of three will be provided by EMO while the vessel can accommodate up to 24 service employees. In addition, around 50 tonnes of load can be picked up, said Ørsted, which is moved with a hydraulic crane installed on the vessel.
EMO has chartered the hybrid vessel, which will be available 24/7 from August, to Ørsted on a long-term basis.
"The EMO is part of our strategy of making the operation of our offshore wind farms more climate-friendly. Transformation also requires a certain amount of courage and the willingness to break new ground. It is nice to have a local partner at our side for this", said Thijs Schless, part of the management of Ørsted in Ostfriesland.
The 312 MW Borkum Riffgrund 1 is located in Germany's exclusive economic zone in the North Sea and consists of 78 Siemens Gamesa 4 MW turbines that have been operational since 2015.
The 450 MW Borkum Riffgrund 2 offshore wind farm was fully commissioned in November 2018 and officially inaugurated in June 2019.
When it comes to Gode Wind 1 and 2, the offshore wind farms were officially inaugurated in June 2017 and are located approximately 45 kilometres off the German coast.
Follow offshoreWIND.biz on: