Japanese Companies Join Hands for Floating Axis Offshore Wind Demonstration Project
J-POWER, Tokyo Electric Power Company Holdings (TEPCO), Chubu Electric Power, Kawasaki Kisen Kaisha (K Line), and Albatross Technology (Albatross) have entered into a joint research agreement for a next-generation floating axis wind demonstration project offshore Japan.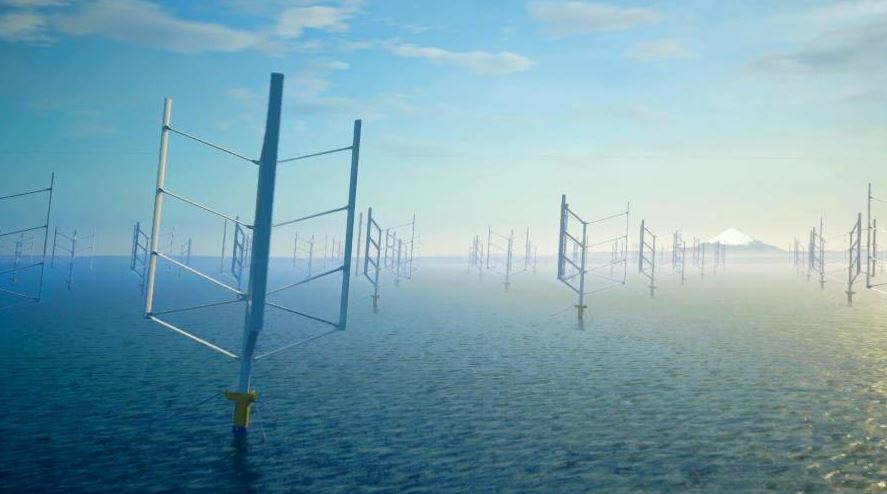 With limited shallow sea areas in Japan, there is a growing interest in floating offshore wind power because it can be deployed in deep water and to promote widespread adoption, it is essential to significantly reduce costs through technological development, the partners said.
In addition, increasing the ratio of domestic production in Japan is expected to create an economic ripple effect, according to the press release.
The Japanese government aims to deploy 10 GW of offshore wind capacity by 2030 and 30-45 GW by 2040, including floating wind, as part of its target to reach net-zero emissions by 2050.
The five partnering companies in this demonstration project will jointly develop a small-scale (20 kW) next-generation experimental floating axis wind turbine (FAWT) project that is expected to reduce costs and increase the domestic production ratio.
For the project, small-scale experimental versions of the FAWT will be installed in Japanese waters. After confirming the validity of the analysis and design method, this will lead to an even larger-scale (megawatt class) offshore demonstration project, the partners said.
The wind turbine section of the small-scale experimental units will be developed by Fukui Fibertech and the floating section will be developed by Mirai Ships.
The carbon composite material molding technology will be developed in partnership with the Innovative Composite Center (ICC) at the Kanazawa Institute of Technology, and the motion analysis technology will be developed in partnership with Osaka University's Graduate School of Engineering.
FAWT is a concept under which a vertical-axis wind turbine is supported by a "rotating" cylindrical floating foundation.
One of its main features is that the wind turbine can be tilted 20 degrees at maximum output, as it is designed to maintain effectiveness even when tilted which could allow for downsizing for the floating foundation and reduce equipment costs.
In addition, the wind turbine can be manufactured at low cost through continuous pultrusion, a molding process used to form composite materials into long shapes, with carbon fiber reinforced plastics (CFRP), the partners said.
Also, according to the companies, by taking advantage of the characteristics to install vertical axis close to sea level due to their specific characteristics, operation and maintenance costs for the major apparatus are also anticipated to be lower.
The wind turbine blades can be manufactured in lengthwise sections with the same cross-sectional shape, eliminating the need for large-scale manufacturing facilities. Additionally, this design makes sections easier to transport and is therefore suited for domestic production, the companies said.
Follow offshoreWIND.biz on: