TenneT Awards New Multi-Billion-Euro Contract for Three Offshore Grid Connections in Germany
After recently awarding EUR 23 billion worth of contracts for eleven offshore grid connections, the German-Dutch transmission system operator (TSO) TenneT has now signed a new, EUR 7 billion contract with a consortium of Siemens Energy and Dragdos Offshore for three more such projects in Germany.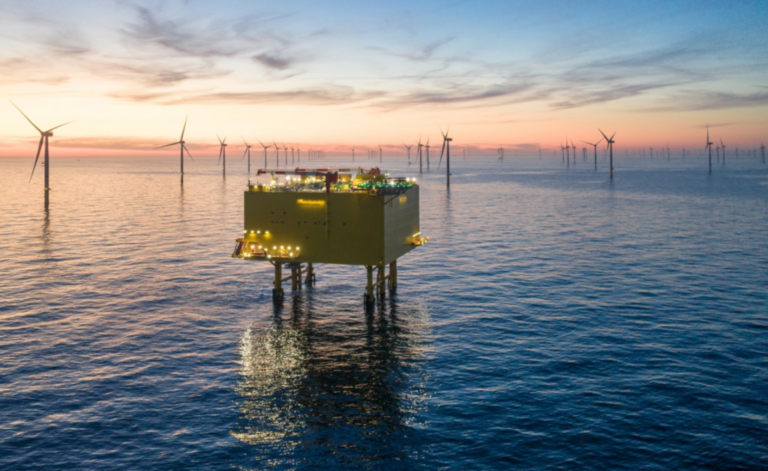 Under a framework agreement with TenneT, the Siemens Energy-Dragados Offshore consortium will supply high-voltage direct current (HVDC) transmission technology for the BalWin3, LanWin2, and LanWin4 grid connections in the German North Sea, which will transport electricity from offshore wind farms to mainland.
BalWin3 and LanWin4 will connect to the onshore grid in Wilhelmshaven and LanWin2 near Heide. 
Each of the systems has a transmission capacity of 2 GW and will ensure that a total of 6 GW of offshore wind power can be transported onshore.
For the projects, Siemens Energy will manufacture the main electrical components, such as switchgears, transformers and converter technologies, at its factories in Europe, while Dragados Offshore is responsible for the construction and offshore installation of the platforms.
"In the global race against climate change, grid expansion must be able to keep pace with the accelerated expansion targets for renewable energies. Shorter contracting processes, large-scale tenders and standardization of solutions show how grid operators and manufacturers are already pulling together to get green energy to consumers faster", said Tim Holt, member of the Siemens Energy Executive Board.
"However, in order for the industry to continue ramping up capacity, all available levers must now be pulled at the policy level as well – from raw material and skilled labor strategies to further streamlining permitting processes at all levels", Holt added.
The framework agreement with the Siemens Energy-Dragados Offshore consortium comes shortly after TenneT awarded contracts worth EUR 23 billion to Hitachi and Petrofac, GE and Sembcorp Marine Offshore Platforms (SMOP), and GE and McDermott, who will deliver offshore platforms and onshore substations, as well as their HVDC systems, to connect eight offshore wind farms in the Netherlands and three offshore wind farms in Germany until 2031.
The representatives from the awarded consortia today, 20 April, officially signed the contracts in Berlin to seal Europe's largest-ever tender award for energy transition infrastructure, with the total volume of the contracts for the components of the 14 systems amounting to around EUR 30 billion, TenneT said.
All 14 grid connection systems will be realised by 2031.
"Their 'core components', meaning the innovative two-gigawatt technology for converting alternating current into direct current and back, will be manufactured exclusively at European production sites of the consortiums' members in all projects. With a contract of this magnitude, Europe will be taking a global lead – in terms of both technology and production – in a key sector of tomorrow's energy supply", TenneT said in a press release on 20 April.
For Siemens Energy and its Spain-based partner Dragados Offshore, this is the second multi-billion-Euro contract for German grid connections since the beginning of this year. In January, the companies announced a EUR 4 billion contract with Amprionfor converter stations for two offshore grid connections.
With the three new projects secured, Siemens Energy says it is currently handling 11 HVDC grid connection projects worldwide to connect wind farms in Germany, the UK, and the US, with five completed projects in the German North Sea.
"Once the 11 ongoing projects are commissioned, Siemens Energy's HVDC technology will feed more than 19 GW of wind power into high-voltage grids worldwide", the company said.

ADVERTISE ON OFFSHOREWIND.BIZ
Get in front of your target audience in one move! OffshoreWIND.biz is read by thousands of offshore wind professionals daily.