Spanish Haizea to Operate Maryland's Offshore Wind Monopile and Tower Factory
US Wind, the developer of the MarWin and Momentum Wind projects in Maryland, has partnered with the Spanish manufacturer of offshore wind monopiles and towers, Haizea Wind Group, to manage and operate Sparrows Point Steel, the state's first permanent offshore wind factory.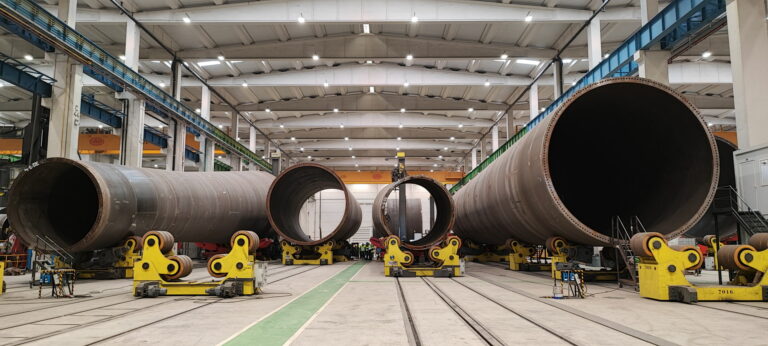 The new facility in Baltimore County will serve for the manufacture of steel components for the US offshore wind industry, including monopiles and towers, with US Wind to be among the first to procure components from the factory.
Sparrows Point Steel has the potential to be one of the largest offshore wind staging ports in the US, according to US Wind, which says the facility will have significant marshalling and storage land, as well as considerable quayside access and an adjacent dry dock.
The site was once the largest steel production facility in the world, when it was operated by Bethlehem Steel, and has special historical relevance to the United Steelworkers, who will support fabrication operations at the new facility, the developer says.
Last year, US Wind awarded a contract to Wood Thilsted for detailed foundation design for its two projects, which also includes supporting the development of the Sparrows Point Steel facility.
Now, with the newly established partnership with Haizea, the development and operation of the site will create one of the premier offshore wind industrial facilities in the world, according to Jeffrey Grybowski, US Wind CEO.
"Sitting on nearly 100 acres of waterfront in Baltimore County, Sparrows Point Steel is poised to become the best offshore wind heavy logistics and fabrication yard on the East Coast. Haizea's depth of knowledge and expertise will cement Maryland's role as a hub of offshore wind manufacturing in the U.S.", Jeffrey Grybowski said.
US Wind acquired the 80,000-acre federal lease area offshore Maryland in 2014. In 2017, the company was awarded Offshore Renewable Energy Credits (ORECs) for the first phase of its proposed development, called MarWin. In 2021, the Maryland Public Service Commission (PSC) awarded ORECs to US Wind for the second phase, Momentum Wind.
The MarWin project will have an installed capacity of 270 MW and is expected to come online in 2024. The 808.5 MW Momentum Wind is planned to be operational by the end of 2026.
Last year, the US Bureau of Ocean Energy Management (BOEM) initiated the federal permitting process for US Wind's lease area in Maryland, which includes both MarWin and Momentum Wind, and any subsequent development within the area.
According to US Wind's Construction and Operations Plan (COP), the company's development in the state, referred to as the Maryland Offshore Wind Project in the documentation, involves installing up to 121 turbines and up to four offshore substation platforms to install a generation capacity of between 1.1 GW and 2 GW.
Follow offshoreWIND.biz on: