Seaway Ventus Now Sporting Its Second Telescopic Leg Crane
The second telescopic leg crane has been installed onboard Seaway 7's next-generation wind turbine installation vessel (WTIV), Seaway Ventus, which is under construction at China Merchants Heavy Industry (CMHI) yard in Nantong, China.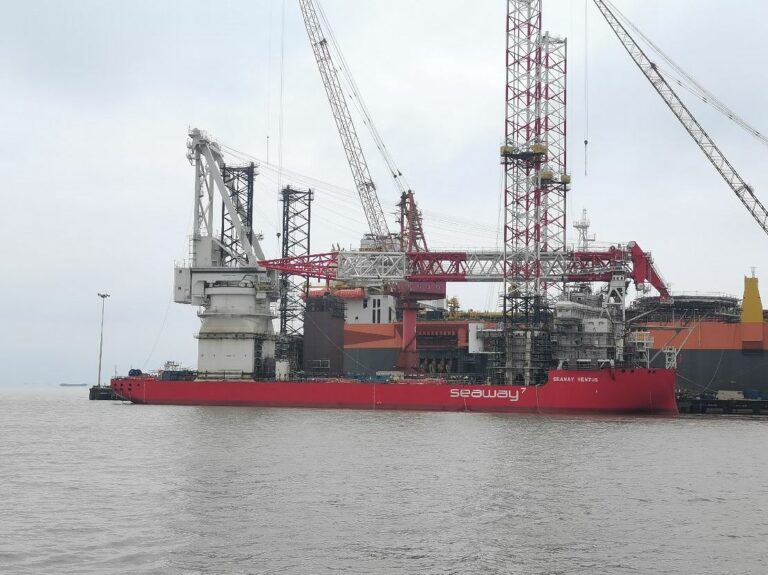 In the coming weeks, the mechanical crane assembly works and reeving will be finalised and the commissioning and load testing will start, said GustoMSC.
The vessel will incorporate a proprietary GustoMSC heavy lift crane with a maximum lifting height of up to 165 metres above deck.
China Merchants Heavy Industry (CMHI), which is building Seaway Ventus at its yard in Jiangsu, is expected to deliver the vessel in the second quarter of 2023.
The shipbuilder officially started working on the new WTIV in November 2021 with the cutting of the first steel.
Seaway Ventus, a GustoMSC NG-14000XL design, will be amongst the world's largest jack-up installation vessels, designed specifically to transport and install the next-generation offshore wind turbines and XL monopile foundations.
The WTIV features a telescopic leg-encircling crane with a maximum lifting capacity of 2,500 tonnes in retracted mode and 1,600 tonnes in extended mode.
The vessel, which will be prepared for hydrogen fuel cells, will be capable of installing wind turbine components in water depths of 65 mteres, at a height of up to 182 metres above the water.
The vessel's inaugural project will be the transport and installation of wind turbines for Ørsted's Borkum Riffgrund 3 and Gode Wind 03 offshore wind farms in Germany.
Follow offshoreWIND.biz on: