GE Developing 18 MW Haliade-X Offshore Wind Turbine
GE could soon join the list of wind turbine manufacturers who have surpassed the current 15 MW "threshold" by producing and/or announcing more powerful models. According to information recently shared with investors, the US-headquartered company is likely to climb up the offshore wind turbine output ladder, currently led by Chinese OEMs, with an up to 18 MW Haliade-X turbine.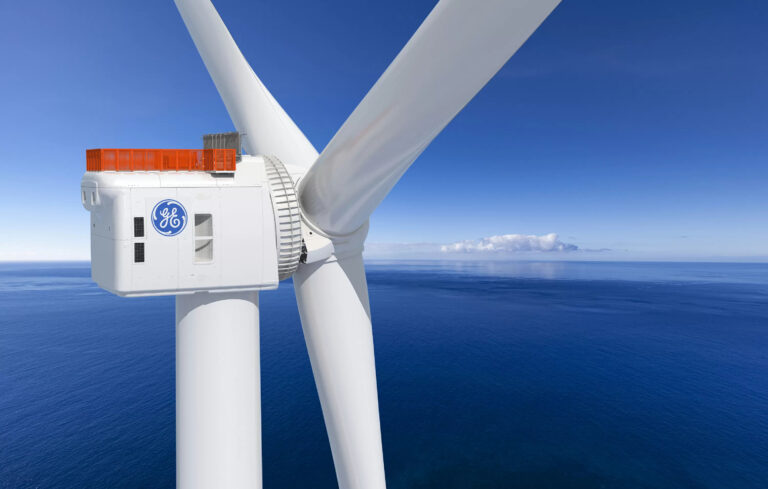 During a GE Investor Conference held on 9 March, Scott L. Strazik, President and CEO of GE Power & Renewable Energy and CEO of GE Vernova, discussed the company's backlog and profit improvements and – looking ahead – said the offshore wind market was receptive of its Haliade-X offshore wind platform of between 17 MW and 18 MW output.
"Now we are getting a very positive reception from the market with our 17 to 18 megawatt Haliade-X variant off of what we're shipping this year", Strazik said.
The company's most powerful Haliade-X turbine at this time has an output of 14.7 MW. An earlier version of the Haliade-X was the first 12+ MW turbine in the industry and the platform is the only one to have full type certification to operate at 14.7 MW, according to GE.
This model has been operating for three years and has been selected by several customers, including the developers of the 3.6 GW Dogger Bank Wind Farm in the UK (13 MW and 14 MW Haliade-X) and the 800 MW Vineyard Wind project in the US (13 MW Haliade-X), both currently under construction with wind turbine installation coming up this year.
Speaking about the company's next Haliade-X variant, Scott L. Strazik said GE was working on that very hard but was also "being thoughtful about it". Strazik also noted that there was "a high likelihood" the OEM will "get tech selects" for that next product over the course of this year.
Looking at the output GE is likely to roll out with the new iteration of its Haliade-X platform, it is up there with turbine capacities announced by manufacturers in China over the past several months.
While manufacturers in Europe are now in the prototype and certification stage with 15 MW wind turbines, Chinese OEMs Goldwind, Mingyang Smart Energy, and Dongfang have added 16 MW models to their portfolios – and Goldwind's will soon be installed on an offshore wind farm, the first commercial project to comprise turbines with this capacity.
At the beginning of this year, two Chinese companies made headlines with updates on offshore wind turbines of well beyond 15 MW.
Namely, CSSC Haizhuang Wind Power, a subsidiary of China State Shipbuilding Corporation (CSSC), informed at the beginning of January that it had rolled out the nacelle for its 18 MW offshore wind turbine prototype.
Shortly after this, Mingyang Smart Energy unveiled its MySE 18.X-28X offshore wind turbine.
Mingyang's new flagship model has a rotor diameter of over 280 metres, 20 metres more than CSSC's 18 MW prototype, and a swept area of 66,052 square metres.