Van Oord: Demand in Offshore Wind 'Increased Exponentially' in 2022, But Returns 'Unsatisfactory'
Van Oord has seen the demand in the offshore wind market increase exponentially in 2022, the Dutch marine contractor's CEO Pieter van Oord said.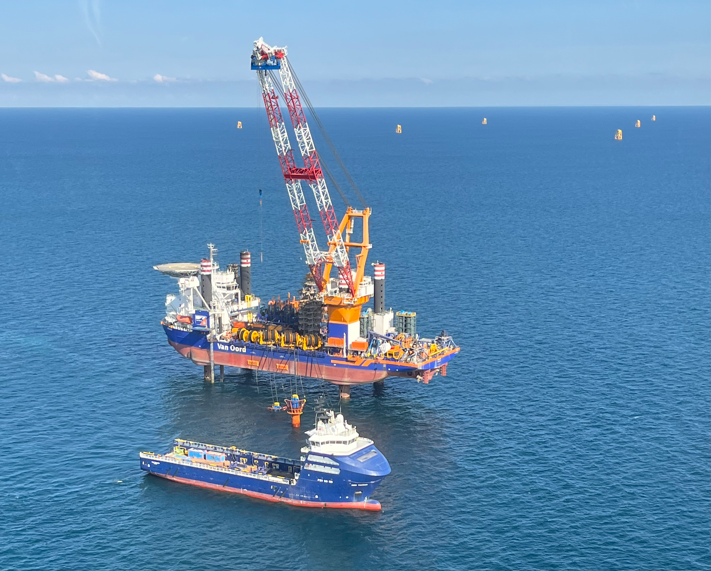 Van Oord's Offshore Wind business unit had what the company has described in its financial report for 2022 as a "a busy year", recording EUR 599 million revenue, a 72.6 per cent increase compared to the EUR 347 million revenue recorded in 2021. The utilisation of offshore wind vessels was high throughout the year, the company said.
This year's revenue was due mostly to the company's involvement in the construction of the Saint-Brieuc wind farm in France, Greater Changhua in Taiwan, and Hollandse Kust Noord in the Netherlands.
"In 2022, Van Oord was able to bring two complex projects under control. The Saint Brieuc project is back on schedule, and we expect to complete it in 2023. We were also able to complete the Taiwanese Greater Changhua project operationally," the company said.
Van Oord also pointed out that within its Offshore division, "Subsea Rock Installation for offshore wind farms is now the fastest growing market" for the company's flexible fallpipe vessels.
Despite a significant increase in revenue in the Offshore Wind business unit in 2022, Van Oord has called for a better balance between risk and reward for contractors within the industry as the returns were described as "unsatisfactory".
"Difficult market conditions and major price increases in the supply chain have meant unsatisfactory returns in the Offshore Wind industry, and for us too," Van Oord said.
The volume of offshore wind tenders awarded to Van Oord in 2022 stood at EUR 339 million and was significantly lower than in 2021 when the company secured EUR 962 million.
The company's total order book of EUR 4.3 billion at year-end 2022 remained stable compared to EUR 4.353 billion in 2021, and was partly driven by the award of the Ocean Wind (US) offshore wind project in the USA.
The Baltic Power offshore wind contract in Poland, secured in December 2022, was not included in the order book, the company said.
Overall, Van Oord ended 2022 with net revenue of EUR 2.021 billion, a 33.2 per cent increase compared to EUR 1.517 et revenue reported for 2021.
Net profit stood at EUR 60 million in 2022, as compared to EUR 62 million net loss recorded in 2021.
Follow offshoreWIND.biz on: