BW Ideol's Floating Wind Substructures Suitable for Japan's Offshore Waters, Study Finds
Sumitomo Mitsui Construction has participated in a feasibility study that concluded that the serial fabrication and delivery of floating concrete substructures can meet the ambitious expectations of Japan's offshore wind market.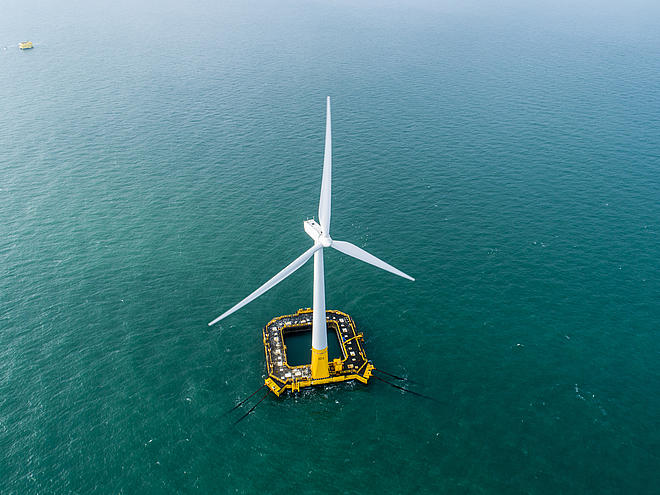 The study was performed within the framework of a commercial-scale floating offshore wind farm using 15MW+ wind turbines co-developed by BW Ideol and a well-known Japanese partner, the company said.
In carrying out the feasibility study, Sumitomo Mitsui Construction said that it developed a thorough understanding of the serial fabrication method proposed by BW Ideol specifically, gantry slipforming, precast construction, horizontal transfer of heavy loads, launching equipment, and methods and temporary storage solutions for floating foundations.
The Japanese company managed to deliver an optimised construction planning suitable for many sites and yards in Japan and consequently confirmed that this time-tested and proven serial fabrication method would enable the company to deliver projects on time, Sumitomo Mitsui Construction said.
The feasibility study relied on Japanese guidelines and technical standards, such as the Ministry of Land, Infrastructure, Transport and Tourism's "Technical Standards for Floating Offshore Wind Power Facilities Safety Guidelines" and the Nippon Kaiji Kyokai's "Guidelines for Floating Offshore Wind Power Facilities".
While Japan is a maritime country with one of the world's largest exclusive economic zones, the shallow water area less than 50 metres in depth that are considered suitable for fixed bottom offshore wind projects are limited, and therefore floating offshore wind is considered to have enormous potential, according to Sumitomo Mitsui Construction.
The Japanese government aims to deploy 10 GW of offshore wind capacity by 2030 and 30-45 GW by 2040, including floating wind, as part of its target to reach net-zero emissions by 2050.
In May last year, BW Ideol signed an agreement with Tohoku Electric Power to jointly develop a commercial-scale floating wind farm off the coast of Kuji city in Iwate prefecture.
Follow offshoreWIND.biz on: