Nordergründe's Aircraft Detection Light System Upgrade Completed and Approved
The Nordergründe offshore wind farm in Germany is the first offshore wind farm in the world to be equipped with a fully functional, officially approved Aircraft Detection Light System (ADLS), according to Deutsche Windtechnik, the company that performed the upgrade.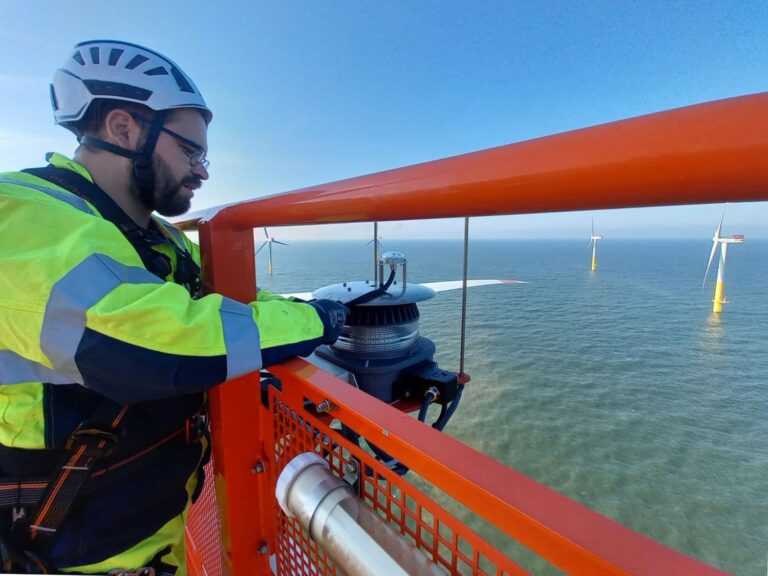 The operating permit has been issued by the relevant authorities after the company fitted its transponder-based ADLS on all the wind turbines at the offshore wind farm in May 2022.
"We equipped two turbines with our ADLS and put them into test operation during the previous months, so we were very well prepared and could equip the remaining sixteen turbines within a short period of time. We completed up to two turbines on each day of work", said Jens Landwehr, Managing Director of Deutsche Windtechnik's offshore unit.
Now, Nordergründe is the first near-coastal offshore wind farm in the world to have its light emissions reduced to a minimum, Deutsche Windtechnik said.
For Deutsche Windtechnik, the work carried out on the 18-turbine, 111 MW wind farm provides hands-on experience for use on other projects since operators are required by law to retrofit their offshore wind farms with ADLS by the end of 2023.
"Our internal processes for installing our ADLS at offshore wind farms have now proven themselves in a real-world scenario. This makes us a pioneer in the global offshore market, and we are ideally positioned to retrofit ADLS at other offshore wind farms", Jens Landwehr said.
The Nordergründe offshore wind farm, operational since 2017, is located some 15 kilometres northeast of the Wangerooge Island in the German North Sea.
The 111 MW wind farm, which features Senvion 6.2M 126 wind turbines, is owned by Gothaer Leben Renewables (40 per cent), wpd (30 per cent), and John Laing Group (30 per cent).
Follow offshoreWIND.biz on: