World's Longest Wind Turbine Blade to Be Tested in Germany
The Danish wind turbine manufacturer Vestas will test the rotor blade of the new V236-15.0 MW™ offshore wind turbine prototype at the Fraunhofer Institute for Wind Energy Systems IWES in Bremerhaven, Germany later this year.
Following the successful conclusion of the contract, Vestas will be the first client to use Fraunhofer IWES' new rotor blade test bench which is currently under construction.
With the V236-15.0 MW™ wind turbine, Vestas has achieved the largest swept area in the industry with a capacity factor of more than 60 per cent from the 115.5-metre-long rotor blades, Fraunhofer IWES said.
"The development of our new wind turbine represents an important step for us in being able to advance technological innovations in the wind industry around the world further and faster. We look forward to conducting the rotor blade test we need for our V236-15.0 MW™ prototype with a rotor diameter of 236 meters together with Fraunhofer IWES, with the aim of being able to start the serial production planned for 2024 assuredly," said Christian Fenselau, Chief of Test and Verification at Vestas.
The test bench is said to offer comprehensive testing possibilities for rotor blades measuring up to more than 120 metres. In addition to biaxial full-scale blade tests, manufacturers also have the option of testing individual segments of a rotor blade, Fraunhofer IWES said.
The modular and adaptable design of the test bench allows the scientists at Fraunhofer IWES to react flexibly to requirements and further develop intelligent test methods. The rotor blade test bench is being funded by the German Federal Ministry for Economic Affairs and Climate Action (BMWK) to the tune of EUR 14.8 million and has received EUR 4 million in funding from the German Federal Ministry of Education and Research (BMBF).
"Even after more than 30 successfully completed test campaigns, a rotor blade measuring more than 115 meters still represents a special challenge for us that requires particularly close cooperation between all those involved," Dr.-Ing. Steffen Czichon, Head of Department Rotor Blades at Fraunhofer IWES, said.
"We are delighted to have been able to secure in Vestas a long-time partner as the first customer for our new test bench. Our test environment is the only one of its size in the world. However, the infrastructure is not the only decisive aspect – the test methods are also being continually further developed so as to be able to conduct the tests more realistically and faster."
Construction of the new test bench in Bremerhaven is currently progressing.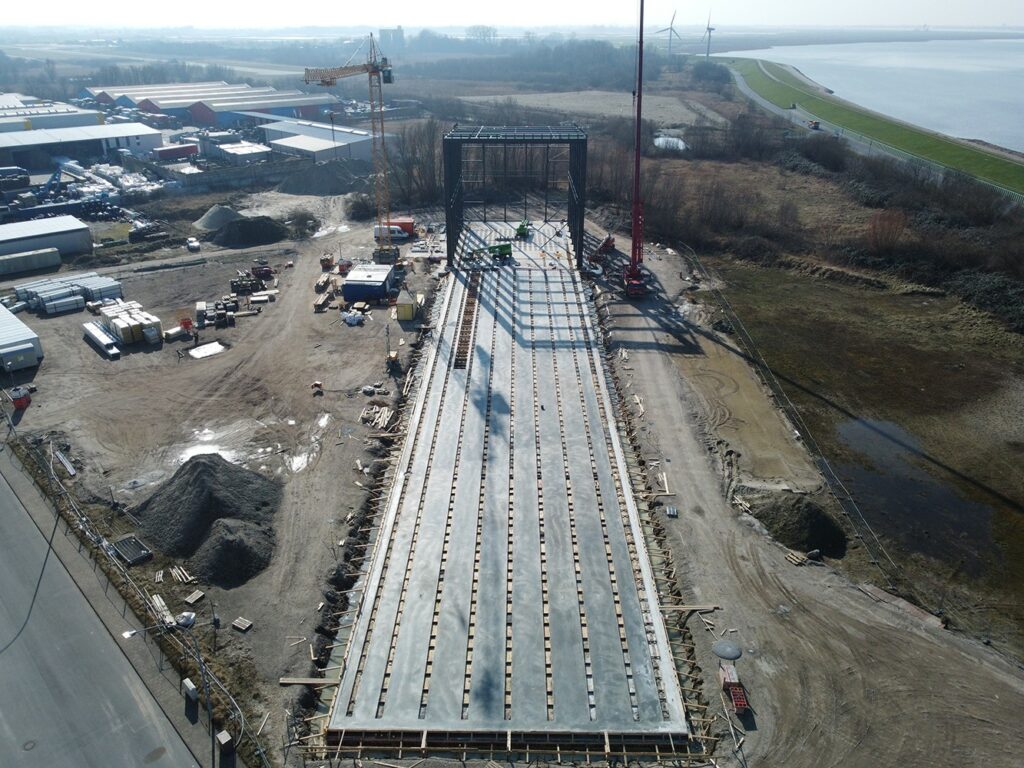 The coming months will see the installation of the test block and setting up of the measurement technology, meaning the test campaign with the 115.5-metre-long rotor blade from Vestas will likely be able to get underway as of fall this year, Fraunhofer IWES said.
Follow offshoreWIND.biz on: