BOEM to Gauge Interest in Revised Gulf of Mexico Offshore Wind Area
The US Department of the Interior's (DOI) Bureau of Ocean Energy Management (BOEM) will publish a Call for Information and Nominations to further assess commercial interest in wind energy leasing in the Gulf of Mexico, after publishing Request for Interest (RFI) in June.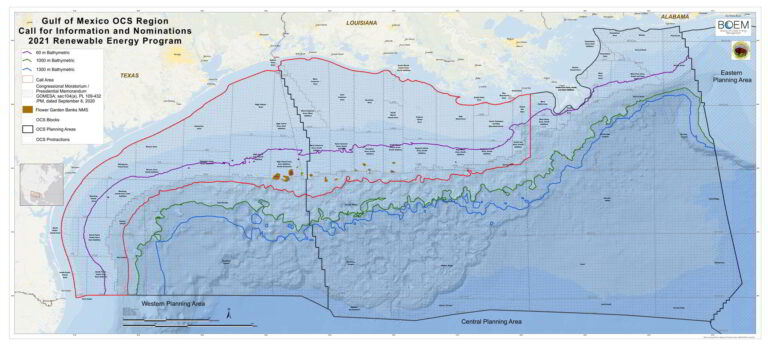 The RFI focused on the Western and Central Planning Areas of the Gulf of Mexico offshore the states of Louisiana, Texas, Mississippi, and Alabama.
Following the feedback received in June, BOEM's Call for Information and Nominations, to be issued on 1 November, will focuses on an area covering almost 30 million acres (approximately 121,406 square kilometres) offshore Louisiana and Texas, just west of the Mississippi River to the Texas/Mexican border.
Before deciding whether and where leases may be issued, BOEM will consider the comments received through this Call, conduct an environmental review as required by the National Environmental Policy Act, and consult with appropriate Tribes, federal and state agencies to consider the environmental consequences associated with issuing commercial wind energy leases within the Call Area.
After completion of its environmental review, BOEM will consider the existing uses of the Call Area, as well as feedback from the Gulf of Mexico Intergovernmental Renewable Energy Task Force and the public. BOEM will then decide whether to publish a Proposed Sale Notice (PSN) to describe the areas available for potential leasing and the proposed terms and conditions of the leases. There will be multiple opportunities for public input throughout this process, BOEM said.
The Gulf of Mexico (GOM) Intergovernmental Renewable Energy Task Force – a regional task force that includes Alabama, Louisiana, Mississippi, and Texas – was established after the State of Louisiana sent a request to BOEM for the establishment of an intergovernmental task force last year.
Earlier this month, the country's Secretary of the Interior Deb Haaland announced plans to organise up to seven new offshore wind lease sales by 2025. Offshore wind auctions are expected to be held for Wind Energy Areas in the Gulf of Maine, New York Bight, Central Atlantic, and Gulf of Mexico, as well as offshore the Carolinas, California, and Oregon to meet the Biden-Harris administration's goal of installing 30 GW of offshore wind energy by 2030.