Les Alizés to Handle XXL Monopiles with Remazel Gear
Jan De Nul Group has selected Remazel for the delivery of a fully automated monopile installation system for its new floating installation vessel Les Alizés, which will handle and install XXL monopiles.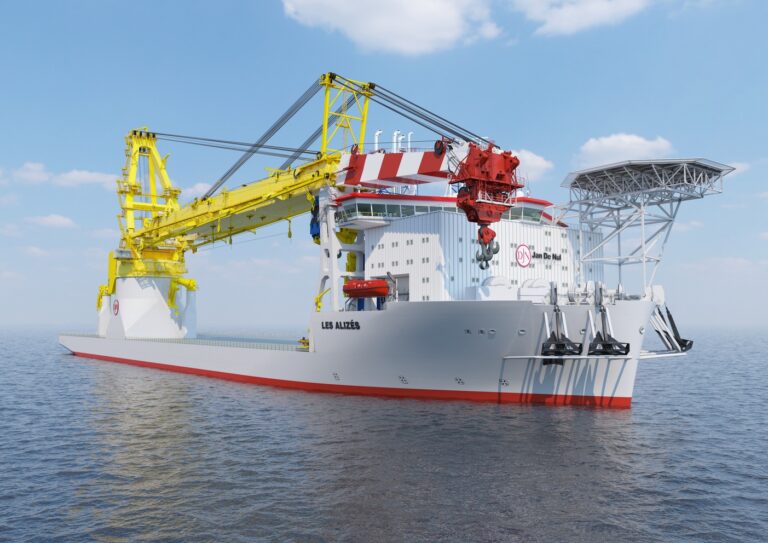 The system is tailor-made for the new vessel and ideally suited to work in challenging weather conditions at sea, according to Jan De Nul.
Under the contract with Jan De Nul, Remazel will deliver a set of cradles, a skidding system, and an upending hinge.
Les Alizés will use the monopile cradles on her deck to store monopiles. The monopile cradles can automatically adjust their supporting diameter. If required, the cradles can also support the tapered section of the monopile.
The skidding system is needed to optimise the use of the deck and will enable the vessel to transport the monopiles in between the monopile cradles and the upending hinge.
The upending hinge can accommodate monopiles weighing over 3,000 tonnes. The tub-mounted crane brings the monopile in a vertical position using the upending hinge. Once upended, the monopile is placed into the monopile gripper by the tub-mounted crane.
"The construction of our offshore installation vessel Les Alizés is well on track. Recently, we have ordered an innovative Motion-Compensated Pile Gripper. Today, we add this automated monopile installation system, fully aligned with our continued philosophy to focus on operational efficiency and improved safety", said Jan Van De Velde, Head of Newbuilding Department at Jan De Nul.
The new vessel is being built by China Merchant Heavy Industry (CMHI), with the construction underway since December 2020.
Les Alizés is specifically designed for loading, transporting, lifting, and installing offshore wind turbine foundations.
It will be capable of building the newest generation of offshore wind farms once delivered in April 2022, but is also suitable for decommissioning offshore oil & gas platforms.