DEME Orders Huisman Monopile Handling Kit for Orion
Huisman has signed a contract with DEME for the delivery of a 2,300mt Lifting Spreader and a set of adaptive Damping Tugger Winches to be installed onboard the offshore installation vessel Orion.
Huisman and DEME have worked together on the optimisation of the spreader's design in order to increase the safety and efficiency of monopile installation.
The unique design is said to enable hands-free sling handling of monopiles, controlled remotely, and powered by an exchangeable battery pack.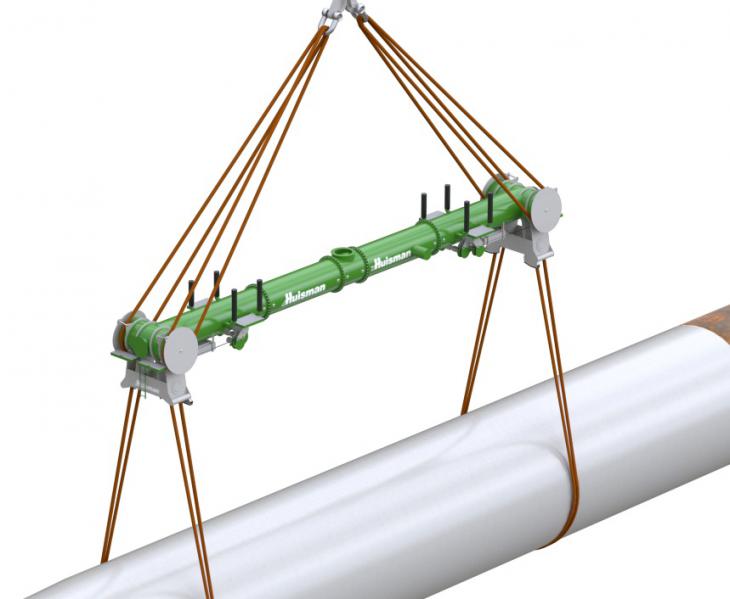 The Lifting Spreader is designed for the installation of next-generation monopiles and can be extended in order to handle 120-metre monopiles with a diameter of up to 12 metres.
In order to ensure maximum control of the monopiles during installation, Huisman will additionally deliver a set of remotely-operated, adaptive Damping Tugger Winches. Thanks to the in-house developed damping algorithm, these winches actively supress sway motion of the monopile during lifting operations, increasing workability and safety, Huisman said.
The Lifting Spreader is one of the installation tools of Huisman that can be connected to the Universal Quick Connector, by using a standardised pin interface, contributing to the operational effectiveness of a crane.
"We thank DEME for their ongoing confidence in Huisman to support them in safe and efficient execution of their offshore wind projects, now and in the future. This order is another step in our ambition to drive down the development costs and speed up the delivery of offshore wind farms," David Roodenburg, CEO of Huisman, said.
"To ensure a timely and cost-competitive delivery of these tools, we will deploy our engineering and production capacity in the Netherlands and Czech Republic."