North Star Renewables to Contract UK Shipyard for Hybrid Daughter Craft
North Star Renewables, which won the Dogger Bank Wind Farm tender for the delivery of three service operations vessels (SOVs) earlier this year, is set to sign shipbuilding contracts for the first two SOV daughter craft this September, and the company decided to build them in the UK.
According to the Aberdeen-based vessel owner, these will be the world's first hybrid daughter craft vessels designed to support the offshore wind market.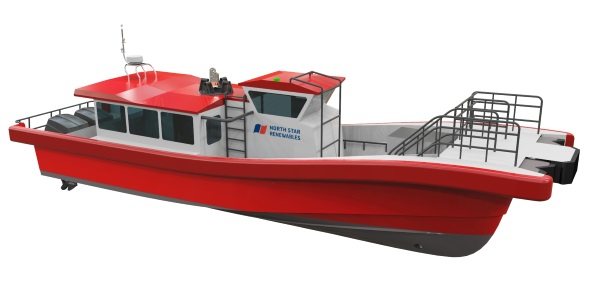 Along with hybrid propulsion, the vessels also feature green technologies to reduce carbon emissions, configured for further improvements in green technologies as the sector evolves.
The first two two of the company's new fleet of hybrid support vessels, designed by Chartwell Marine, will be delivered in 2022 and 2023.
The vessels will be used to transfer technicians between the in-field SOV and the wind turbines, and to support trips to shore and making deliveries in-field. In addition, daughter craft will also provide essential emergency safety and rescue cover.
"The design builds on learnings from our low emission research & development project funded by the Carbon Trust's Offshore Wind Accelerator, and, working with North Star, we have been able to develop an effective hybrid vessel that will live up to the demands of offshore wind operations", said Andy Page, Managing Director, Chartwell Marine.
After it won the tender for the delivery of three SOVs for the 3.6 GW Dogger Bank offshore wind project – developed by SSE Renewables, Equinor and Eni – North Star Renewables signed contracts for the design and construction of the three service operation vessels with Norway-based shipbuilder Vard.
The SOVs, chartered for a ten-year period with an option for three one-year extensions, will be built by Vard Vung Tau shipyard in Vietnam and handed over to Dogger Bank Wind Farm operator Equinor in 2023.