A new technology development could soon bring a floating offshore wind turbine to Middle East as part of a desalination project that combines a seawater desalination plant and a wind turbine, both supported by a floating semi-submersible structure.
The development of Floating WINDdesal (FWD), a "floating water utility" supplying potable water to coastal regions, is being carried out by a European industry initiative comprising system partners thyssenkrupp Industrial Solutions, CRIST Shipyard, and SYNLIFT Industrial Products, and technology partners Prysmian Group, Boll & Kirch Filterbau, AEROVIDE, StoGda Ship Design & Engineering, and EMS Maritime Offshore.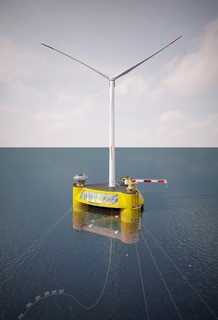 A first FWD project implementation is most likely going to take place in the Middle East this year, according to a press release from SYNLIFT, which is in charge of both project management and general planning. The company has not specified the country in which the system could be deployed.
The FWD systems, which will use extra-long blade wind technology, are being developed in three module sizes, with the largest FWD module being capable of providing drinking water for up to half a million people.
By applying the semi-submersible technology, locations with greater water depths can also be activated cost-effectively with a minimized impact of seawater desalination on the maritime and terrestrial environment, according to the project developers, which also highlighted that the floating utility solution was easy to mobilise at short notice, ideal for emergencies and any kind of temporary missions.
"Our floating utility unit is 'mobile'. If necessary, the entire plant can be relocated by sea. As a result of that, requirement for customers to provide securities and guarantees – indispensable for the longterm operation of stationary onshore desalination plants – is significantly reduced or, at best, not required at all", said Joachim Käufler, head of the FWD project. "FWD is therefore intended to enable sustainable and cost-effective seawater desalination even in locations where conventional desalination could not be financed".
Photo: SYNLIFT; Floating WINDdesal (FWD) module for 30,000 m3/d