Drydocks World Cuts Into HKZ Beta Steel
Dubai-based Drydocks World has held a steel-cutting ceremony for the Hollandse Kust Zuid Beta offshore substation topside.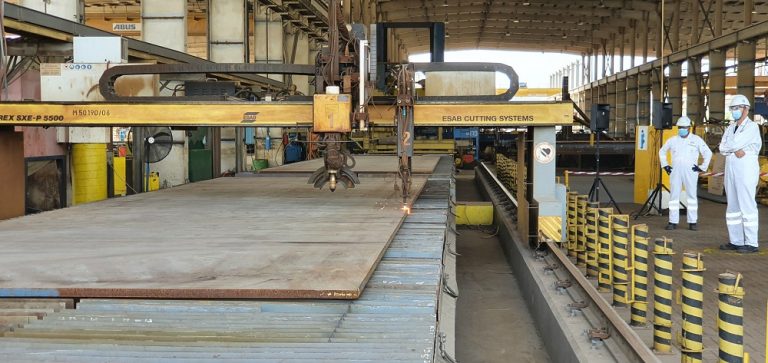 This is the third topside that Drydocks World will be constructing for Petrofac and end-client TenneT, and the second project for the Hollandse Kust Zuid zone.
The 700 MW High Voltage Alternating Current (HVAC) platform will, together with Hollandse Kust Zuid Alpha, collect the electricity generated by the wind turbines at the Hollandse Kust Zuid 1-4 wind farm, transform, and deliver it to the Dutch grid.
The topside will weigh approximately 3,700 tonnes. The project scope for Drydocks World covers production engineering, construction, and mechanical completion.
Pre-commissioning, commissioning assistance, load-out, sea fastening, and HVAC (EPC) engineering, procurement, construction, and commissioning for the topside will also be delivered.
Capt. Rado Antolovic, Phd CEO of Drydocks World, said: "The initial stages of work for HKZ platform Alpha are well underway, and we are pleased to begin work on the second HKZ platform Beta. We are committed to providing safe and efficient delivery of both platforms, and thank Petrofac for this opportunity."
Vattenfall's Hollandse Kust 1-4 project will comprise up to 140 Siemens Gamesa 11 MW wind turbines scheduled to be commissioned by early 2023.