Free Offshore Wind Webinar – How to Open Key New Markets for Substantial Commercial Development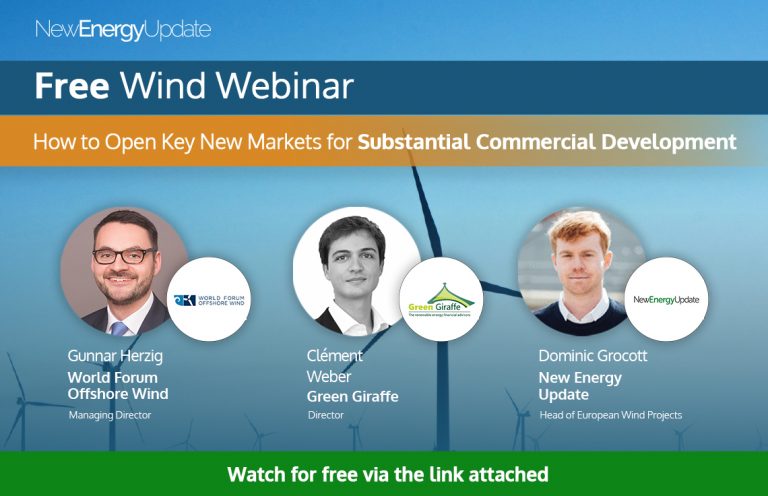 Do you want to learn how to open up new markets for substantial commercial development in Asia, East Europe and North America? If yes – watch this insightful webinar below…
60-minute Offshore Wind Webinar Presentations and Q&A:
– Gunnar Herzig, Managing Director, World Forum Offshore Wind
– Clément Weber, Director, Green Giraffe
– Dominic Grocott, Head of European Wind Projects, New Energy Update
Why should you join this webinar?
The global market for offshore wind has grown by 16% in the last 12 months, according to RenewableUK, with the portfolio of global offshore wind projects in operation, under construction or in development rising from ~105 gigawatts (GW) to ~121GW in the last year.
As new market opportunities continue to open – such as in Poland, Ireland, Lithuania – and more established markets continue to plan for expansion in Europe, the US and Asia – the global offshore wind community still wrestles with sector politics, changing technology, supply chain and workforce gaps. The key to success is in knowing how to open up these key new markets that will then lead to substantial commercial development.
It is therefore vitally important for business leaders, technology experts and strategic decision makers to learn the key steps that developers and supply chain companies are taking today, which you must also take, in order to avoid missing out on such opportunities to your key competitors!
With new markets due to be a major theme at the Offshore & Floating Offshore Wind Europe Conference in London on 11-12 November 2019, this webinar provides insights into how embrace new opportunities and confront hurdles in developing projects in these new markets.
This webinar is an invaluable resource to all energy professionals that wish to learn more about the offshore wind industry.
This webinar is produced in conjunction with the Offshore & Floating Wind Europe 2019 Conference & Exhibition.