Norwegian shipbuilder and ship designer Ulstein has started construction work on Bernhard Schulte Offshore's third Ulstein-designed offshore wind vessel at Ulstein Verft.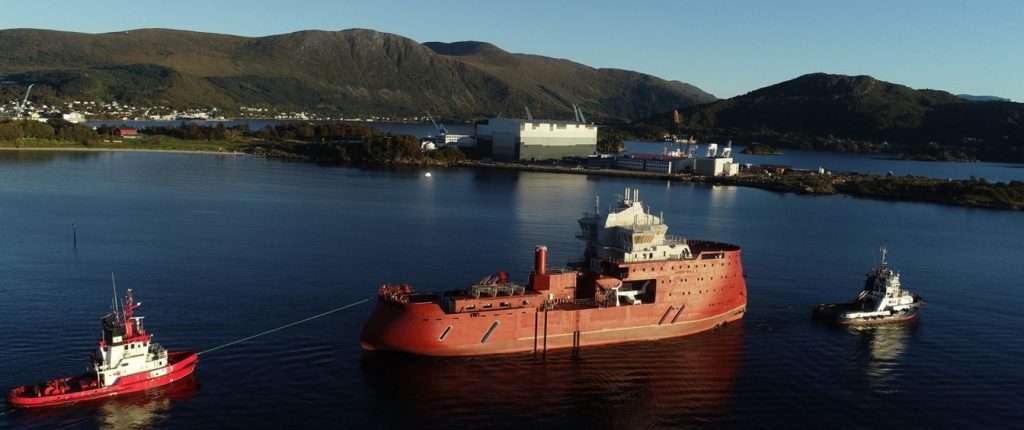 As reported earlier, the partially built service operations vessel (SOV) left the Crist shipyard in Poland en route to Norway earlier this month.
Following the SOV's arrival in Ulsteinvik, Ulstein commenced work tasks such as steel outfitting, mechanical outfitting, electrical steel work, piping and insulation, with cable pulling expected to start within a few days.
Back in July 2018, GE Renewable Energy had contracted Bernhard Schulte Offshore to provide the SOV for the 396MW Merkur wind farm in the German North Sea, after which the German company placed the order with Ulstein. The expected delivery is January 2020.
Bernhard Schulte has previously received two offshore wind vessels from Ulstein. The shipowner was the first to order and introduce to the market the X-STERN aft design.
The Merkur SOV is a larger-sized vessel of the design type SX195. The vessel measures 93.4 metres in length and 18 metres in the beam and can carry up to 120 people.
The design has been customised for the tender requirements of the charterer and the ship owner's preferred mission equipment. It has a large, centrally positioned walk-to-work motion compensated gangway and lift tower for personnel and cargo transfers. Furthermore, a 3D compensated crane capable of 2-tonne cargo lifts is available. The optimised on-board logistics includes large storage capacities, of which half is under roof in a controlled environment, and stepless approach to the offshore installations, Ulstein said.
In cooperation with the shipowner, Ulstein Design & Solutions has designed a diesel-electric propulsion system assisted by batteries to reduce operating hours on the main engines, save fuel and reduce environmental footprint.