ORE Catapult Welcomes Haliade-X 12MW Blade
The first LM 107.0 P blade for GE's Haliade-X 12MW turbine has arrived at Offshore Renewable Energy (ORE) Catapult's testing site in Blyth, the UK.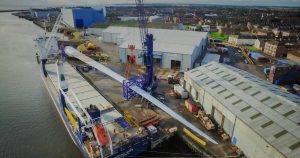 Over the coming months, the blade will undergo advanced testing procedures, with static and fatigue tests to demonstrate its ability to withstand peak wind conditions and simulate its readiness for years of operation at sea.
The Haliade-X 12MW nacelle and blades that will be tested at ORE Catapult are part of a program that focuses on enhancing the platform before it enters into serial production in 2021.
"We're delighted to have taken delivery of the world's longest blade at our Blyth test facility, where we'll put it through an extremely rigorous testing programme designed to make sure it can withstand years of operation at sea," said Andrew Jamieson, Chief Executive of ORE Catapult.
The Haliade-X 12MW will be installed onshore in Rotterdam, the Netherlands, to facilitate access for testing during the initial period of operations. According to ORE Catapult, three blades will soon be shipped to Rotterdam.
Related news
List of related news articles