Boskalis Orders More SMD Trenching Tech
Soil Machine Dynamics Ltd (SMD) has secured a contract to supply a multi-mode pre-lay plough to Boskalis.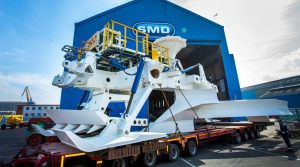 The 200Te pre-lay plough comes with SMD's latest surface control equipment which will be mobilized on the bridge of a Boskalis specialist trenching vessel.
It will feature a 2.1m share suitable for trenching in sands and hard clays up to 600kPa and will have configurations for trenching and backfill, the company said.
The trenching pass creates an engineered 'Y' trench profile with a secure power cable pocket for subsequent lay process and the backfill pass moves the cut spoil back over the product for maximum cover. It is set for delivery in spring 2020.
As reported, SMD recently delivered an ultra high-powered 2400hp Cable Burial Tractor to Boskalis' cable laying vessel Ndeavor.
"We are delighted with this second award from Boskalis following the CBT2400 trencher contract. We've worked hard with Boskalis to evolve the multi-mode plough design, improve its performance and minimise environmental impact on the seabed," said Paul Davidson, Managing Director of SMD's Equipment Business.
"Minimising lay risk and maximising lay speed are key drivers and being able to carry out a campaign of trenching and backfilling using a single vehicle makes operations economical in both cost and time."
Related news
List of related news articles