Boskalis Ndeavor Sports SMD Trenching Gear
Soil Machine Dynamics Ltd (SMD) has delivered an ultra high-powered 2400hp Cable Burial Tractor to Boskalis' cable laying vessel Ndeavor.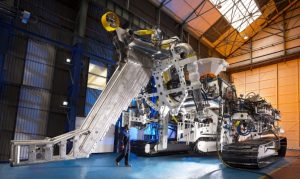 The CBT2400 and associated deck equipment were mobilized directly onto Ndeavor from the Swan Hunter quayside access point next to SMD's production facility.
Boskalis and specialist trenching contractor Canyon Offshore will operate the tractor.
SMD said it conducted specialized training for the companies' offshore personnel earlier this month to make sure they have the necessary knowledge and skills to operate the new tractor.
"The project is a great example of how we pride ourselves on working in partnership with our customers; the unique combination of tools has been a collaborative effort between SMD's design experts and the combined operational expertise of Boskalis and Canyon Offshore," said Paul Davidson, Managing Director of SMD's Equipment Business.
CBT2400, the latest addition to SMD's burial tractor range, is used for protecting cables in hard ground with interchangeable cassette tooling, the company said. It operates in post lay mode.
The tractor provides a remote-control platform with trenching tools for different ground strengths and consists of a hard ground cutting boom, rear jetting tools for lowering the power cable and eduction tools for spoil clearance.
Related news
List of related news articles