NOS Reveals New Hybrid CTV Class
Northern Offshore Services (NOS) is launching the E-class crew transfer vessel (CTV) series featuring hybrid technology.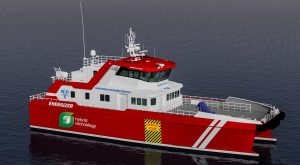 The E-class is a green power concept which has batteries installed that can be recharged from shore and from wind farms, thus using renewable energy directly from production to consumer, NOS said.
The first vessel from the E-series will be M/V Energizer, which is set to be delivered at the end of 2020.
It is an in-house design and, with 34m in length, it will be the largest vessel in the company's fleet.
"The future is green and the E-class is our first step towards a fully electrified CTV fleet. We believe that electrification is a central part of the future of safe and environmentally friendly CTVs and we will continue to improve and develop our services," said David Kristensson, CEO of N-O-S.
According to NOS, new developments in the propulsion plant, such as lower propeller speed and a larger diameter, give the new class high-efficiency propulsion resulting in lower fuel consumption during transit and higher bollard push during docking.
The propulsion system has four modes, including the ECO-mode when the vessel is operated at low speed with support from the batteries. It is also capable of operating only on batteries, NOS added.
Related news
List of related news articles