JDR and Bristol Community College Partner Up for OW Training
The UK-based JDR Cables and the U.S. Bristol Community College have signed a Memorandum of Understanding (MoU) for training personnel for the offshore wind industry.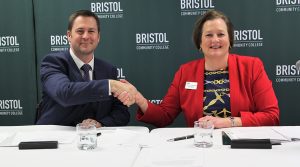 Under the agreement, Bristol Community College will develop and deliver training courses to enable technicians and workers for the U.S. offshore wind industry.
The courses will include technical skill development and student competency in all aspects of work directly associated with the offshore termination and testing of inter-array cables.
In addition, safety-training courses will be specifically delivered to JDR's technicians and coordination will be established with the state network of MassHire Career Centers to recruit, screen, assess and refer possible candidates to JDR.
The U.S. college also plans to develop the National Offshore Wind Institute (NOWI) to host workforce development initiatives, training and job opportunities with employers and accelerate the development of the sector.
"This exciting partnership further demonstrates Bristol's commitment to the training and development of high-paying careers in the offshore wind industry," said Laura Douglas, Ph.D., President, Bristol Community College.
"It also ensures that the college will be able to support the region's emerging offshore industry sector with highly-skilled workers, innovative training programs and the shared use of specialized facilities well into the future."
JDR will participate in business and education advisory committees to provide expertise on technical and educational curriculum and will sponsor K-16 STEM educational outreach initiatives at both the Bristol locations and regional middle and high schools.
"JDR is extremely excited to have secured this strategic partnership with the Bristol Community College. Bringing JDR's industry leading 66kV cable technology and innovative thinking from working on projects in the US and around the world will be so valuable to the future workforce," said David Nemetz, Director at JDR.
"This collaboration is a critical step in not only JDR's strategy but for the future local workforce who will be at the forefront of delivering offshore wind energy. With this agreement, we have successfully established another key step in our strategy for US offshore wind and we are now prepared to make our strategy a reality."