Pipeshield Wins East Anglia One Scour Prevention Deal
Pipeshield International Limited has secured a contract by DeepOcean to supply the scour protection for the East Anglia One offshore wind farm in the UK.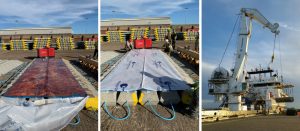 According to the Lowestoft-based company, more than 300 bespoke fronded concrete mattresses (FCMs) have been manufactured at the port of Great Yarmouth within close proximity of the deep water berth.
Pipeshield International said the FCMs are its own design which utilizes its specialist three-part frond system.
The frond system is fixed to one of the company's 6mx3m concrete bi-flex mattresses with their patented nose to notch block design (N2 Edge).
This block design is said to be proven to provide up to three times more edge stability compared to a standard block design.
"We are delighted to receive the award by DeepOcean for the supply of the scour protection for EA1. To be part of the first zone of such a significant project is fantastic," said Pipeshield's General Manager David Blake.
"Local content has been discussed a lot during contract negotiations, so it is particularly nice that we have been able to utilise both locations for this project, Lowestoft (Design & Contracts) and Great Yarmouth (Manufacture & Delivery)."
The East Anglia One project comprises 102 Siemens 7MW turbines located 59km from the coast of Lowestoft. The 714MW offshore wind farm is scheduled to come into operation in 2020.
Related news
List of related news articles