Bureau Veritas, ORE Catapult to Develop Levenmouth Turbine's Digital Twin
Source: Bureau Veritas/ORE Catapult; Fifth Ring
Bureau Veritas and the Offshore Renewable Energy (ORE) Catapult have entered into a collaboration agreement to jointly develop a Veristar AIM 3D "Digital Twin" of ORE Catapult's 7MW Levenmouth Offshore Wind Demonstration Turbine in Fife, Scotland.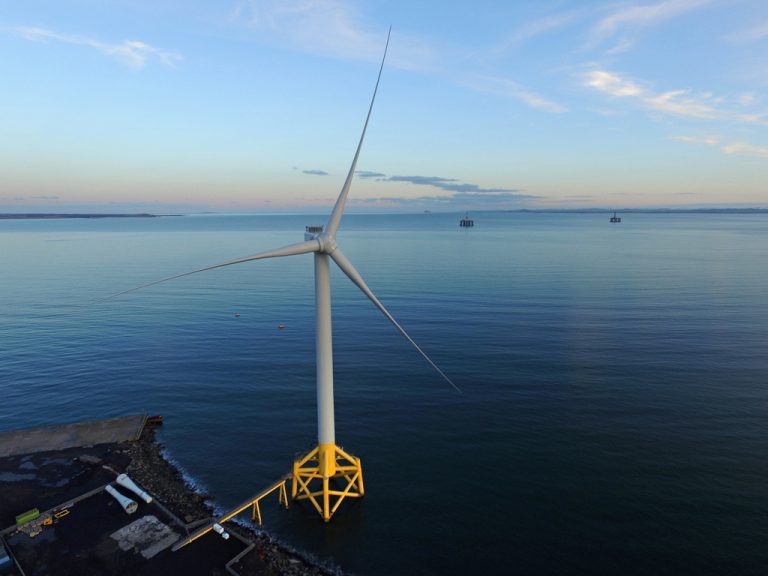 "Digital Twins" can improve the operations and maintenance of offshore wind farms by combining real-world turbine operating data with numerical modelling to improve understanding and enable a risk-based approach to maintenance activities, thereby reducing unplanned activities, improving health and safety and reducing costs.
The operation and maintenance of offshore wind farm assets accounts for around 40% of the combined, undiscounted lifetime CAPEX and OPEX costs. The costs associated with an unplanned outage resulting in loss of generation revenue, maintenance crew salaries and vessel charter could be up to £10,000 per turbine, per day or even higher.
The ultimate goal of wind farm operators is to reduce unplanned downtime to zero, whilst reducing scheduled maintenance inspections to an absolute minimum as every invasive inspection carries the risk of inadvertently introducing further issues for the asset.
The aerospace industry has been using numerical models to analyse the performance of aircraft fleets from engines to the entire structure of the aircraft, for many years. Data collected by real-time condition monitoring systems, together with manual inspection data, provide a full life-cycle view of the performance of the asset over time and enable a risk-based and reliability centred maintenance approach to aircraft maintenance to be developed, increasing safety whilst reducing overall maintenance costs.
When Bureau Veritas Marine and Offshore Division was looking to develop the next generation of its Veristar Asset Integrity Management Software, it decided to partner with a best-in-class 3D modelling and digital twin solution provider, entering into an exclusive collaboration agreement with Dassault Systèmes in 2015 and culminating in the launch of the Veristar AIM 3D Asset Integrity Management solution in 2017.
Initially, Veristar AIM 3D targeted traditional marine and O&G Offshore units, both fixed and floating, but it soon became apparent this powerful Digital Twin solution could have tremendous benefits for the marine renewable energy sector as well.
ORE Catapult is already working with a number of partners to develop a "Digital Twin" of the Levenmouth Turbine, focused around the collection of real-time operational SCADA and condition monitoring data from several disparate systems. The collaboration agreement between Bureau Veritas and ORE Catapult is to create a collaborative, interactive digital twin, including 2D diagrams and 3D representations of the wind turbine, where post-processed SCADA and condition monitoring data as well as manually collected inspection data is to be brought back into a unified database of the turbine.
The collaboration will address how this information is then presented, thanks to the collaborative digital twin, in the most intuitive manner to the operator, for data-driven decision-making and overall understanding of the asset condition and incoming threats.
Ian Finch, Global Business Development Manager for Marine Renewable Energy, Bureau Veritas said: "Using Veristar AIM 3D will enable ORE Catapult to benefit from a state of the art asset integrity management system tool where all as-built drawings, operating manuals, and maintenance procedures can be incorporated in the database and updated as needed throughout the life of the turbine. Maintenance technicians can have instant access to data about the turbine, including its current condition status, and how to maintain it, directly from the Veristar AIM 3D central database."
Chris Hill, Operational Performance Director from ORE Catapult, commented: "As the offshore wind industry and its asset base matures, the ability for wind farm operators to be able to accurately monitor and predict the future performance and safety of their wind farm assets is critical. The Digital Twin enables all information on the condition and performance of a turbine fleet, from the initial starting conditions right up to the end of life conditions, to be monitored and recorded. Having all this information in one central database, together with a full 3D graphical representation of the assets, allows an operator to make critical decisions about how to run the turbine, especially towards the end of its predicted life. It enables a risk-based inspection and reliability-centred approach to maintenance planning and the possibility for future life extension.
Implementing the Veristar AIM 3D Digital Twin platform on ORE Catapult's Levenmouth Demonstration Turbine will enable ORE Catapult to develop and share Digital Twin best practices with the industry at large."