French Agency for Biodiversity Okays Dieppe-Le Tréport Offshore Wind Project
France's Agency for Biodiversity has given a favourable opinion, albeit with reservations, on the 496MW Dieppe-Le Tréport offshore wind project.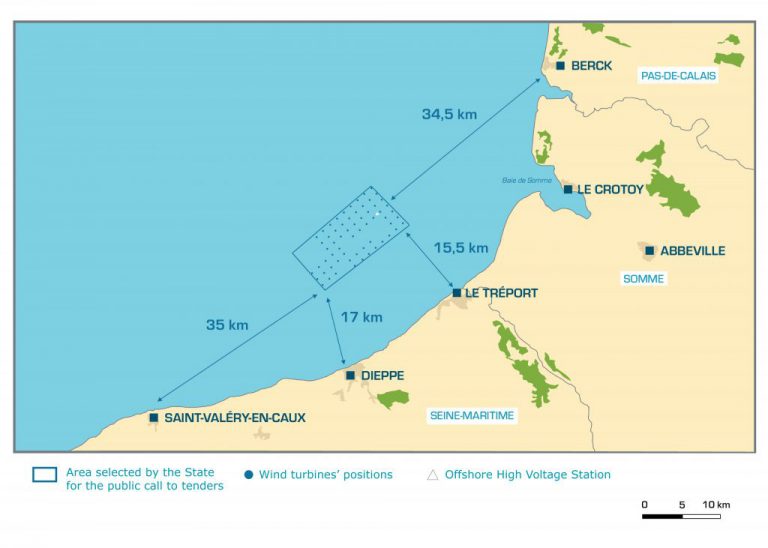 The project's northeastern part is located in the Picard estuaries and the Opal Sea nature marine park, which is under the jurisdiction of the agency.
In October 2017, the marine park's management board voted against the wind farm project. After receiving the unfavourable opinion from the management board, the project developer, Éoliennes en Mer Dieppe et Le Tréport, informed the Agency for Biodiversity that the project will be amended to take into consideration the input received and minimise the impact on the surrounding marine life and biodiversity.
The revised project includes several new measures, including no piling works during a four-month period of intensified breeding of the local species, and taller wind turbines in order to reduce the risk of bird collisions.
The agency's reservations about the project relate to additional information needed on the project's impact on the surrounding area.
The 496MW Dieppe et Le Tréport offshore wind farm is located 17km off Dieppe and 15.5km off Tréport, in water depths ranging from 5 to 25 meters.
The wind farm will comprise 62 Siemens Gamesa 8MW wind turbines installed over an area of 82.4 km².
Construction and installation of Dieppe et Le Tréport is expected to start in 2019, with the full commissioning scheduled for 2021.
Éoliennes en Mer Dieppe et Le Tréport is a joint venture company owned by Engie (47 %), EDP Renewables (43 %) and Groupe Caisse des Dépôts (10 %).