Kriegers Flak Foundations Arrive in Denmark
A barge loaded with two gravity-based foundations (GBFs) for the high voltage station of the 605MW Kriegers Flak offshore wind farm has arrived in Køge, Denmark, Blue Water Shipping (BWS), the port agents for the project, told Offshore WIND.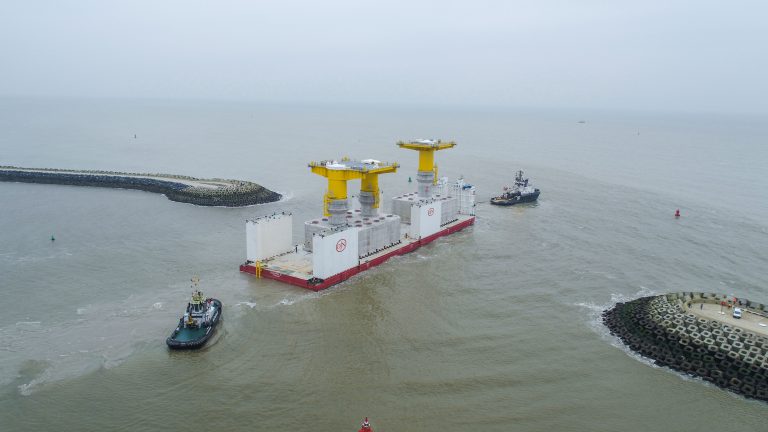 The Boabarge 37, towed by the tug Zeus of Finland, arrived in Køge on Wednesday, 17 January, following a journey from Belgium's Port of Ostend which started last week.
The foundations now await the arrival of the heavy lift vessel Rambiz and a suitable weather window, before the float-off and installation on Kriegers Flak can take place, BWS said.
In addition to coordinating the port call with the port and tugboats, BWS will assist with ad hoc services that may be required during the stay in Køge.
Jan De Nul and Iemants won a contract to construct, install, ballast and protect GBFs for two offshore substations in November 2016.
The first foundation is expected to be installed by the end of the month, and the second a couple of weeks later, weather permitting.
Once the installation is completed, Jan De Nul's most recent multipurpose vessel, Adhémar de Saint-Venant, will start with the ballasting and scour protection works.
"We are very proud to have been appointed agents for Jan De Nul Group for the services related to the Kriegers Flak Project, and we are looking forward to receiving the two large foundations here in the port of Køge. It will be an impressive sight which will surely create some talk in town," said Nicolai Keller from Blue Water's agency department in Copenhagen who is in charge of this project.
The Kriegers Flak offshore wind farm is owned by Vattenfall and will comprise 72 Siemens Gamesa 8MW turbines, expected to be fully operational by 2021.