USTDA Continues Support for Vietnam's Offshore Wind with New Grant
The U.S. Trade and Development Agency (USTDA) has awarded a grant to Power Engineering Consulting Joint Stock Company 2 (PECC2), a Vietnamese power engineering company, to support development of the 100MW Tan Thuan nearshore wind farm in southern Vietnam.
PECC2 has selected Seattle-based DVN KEMA Renewables, a consulting and engineering group with experience in offshore wind in Vietnam, to carry out the project design and feasibility study.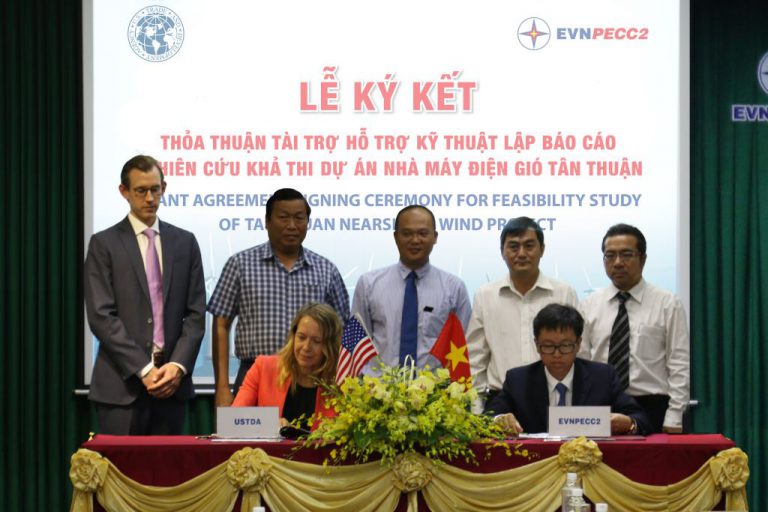 According to USTDA, the Tan Thuan wind farm is located in the Ca Mau province, which is notable for having the highest average wind speed nationwide.
The wind farm is developed in two phases, the first comprising 24MW and the second including the remaining 76MW.
David Ross, USTDA Country Manager, said: "USTDA is pleased to support this project which will help capitalize on southern Vietnam's strong wind resources and support the country's prioritization of renewable energy. This project represents an excellent opportunity for U.S. businesses to export technologies and services in support of Vietnam's renewable energy goals."
U.S. Consul General Mary Tarnowka and PECC2 Chairman and CEO Nguyen Chon Hung signed the grant at a ceremony in PECC2's office in Ho Chi Minh City.
"As Vietnam's energy demands grow, the U.S. is helping spread renewable energy in the Mekong River Delta. This project has the potential to bring clean energy to the Mekong River Delta and introduce U.S. wind power technologies to Vietnam," Mary Tarnowka said.
In March 2015, USTDA backed the development of the 300MW Bac Lieu wind power project in Vietnam with a grant to Cong Ly Ltd. Commercial operation for phase 1 of Bac Lieu, which uses ten General Electric turbines that generate approximately 16 MW of power, commenced in August 2013.
Recently, USTDA awarded a grant to the Petroleum Corporation of Jamaica (PCJ) supporting the development of an offshore wind farm in Jamaica. If determined viable after the feasibility study, the wind farm would be one of the first offshore wind installations in Jamaica and the greater Caribbean region.