Gulliver Leaves Shipbuilding Yard in China
Gulliver, Scaldis Salvage & Marine Contractors' heavy lift, DP2 vessel, has left the ROC shipyard in Qidong, China, Royal IHC reports.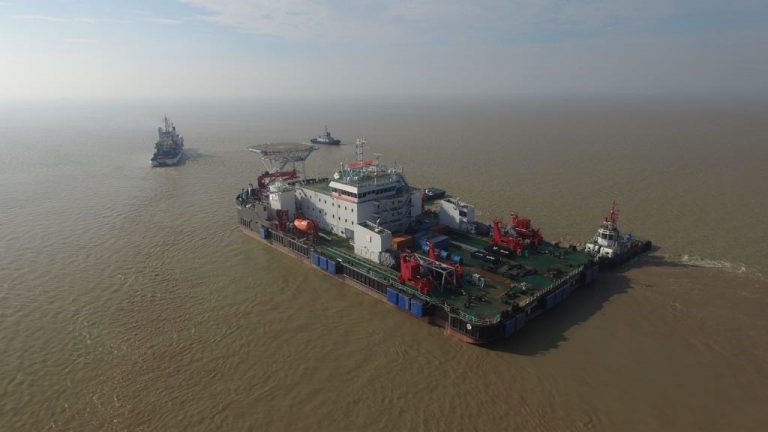 The vessel is now en route to the Huisman yard in Xiamen for the installation of two cranes, each capable of carrying 2,000 tonnes.
Scaldis ordered Gulliver, formerly known as RAMBIZ 4000, to further support and expand the company's services, including the installation of offshore infrastructures and decommissioning-deconstruction activities for the oil and gas industry, as well as the installation of offshore wind farms.
Scaldis designed the vessel in cooperation with Vuyk Engineering Rotterdam, part of Royal IHC. The vessel was built under full responsibility and coordination of Royal IHC.
The ship and the cranes are an integrated design which allows the maximum load to be hoisted in wave heights of up to 1.5 metres. In these circumstances, the freeboard is not less than 3 metres anywhere on the vessel. In standby or transport modes, significant wave height can be as much as 7 metres. The maximum load can be lifted in water depths of around 5 metres.
The four azimuth thrusters and the DP II system allow installation work to be conducted in deeper water without the use of anchors. The crane ship is also equipped with 4 main working anchors and winches and 4 secondary devices.
The ship will be equipped with a so-called 'moonpool' for the purposes of operating a separate ROV (Remotely Operated Vehicle) for inspecting and supervising installation work on the seabed.
Gulliver also comes equipped with a helipad and room to accommodate 78 people.