Bladt Reports Good 2016 Results. Eyes US, APAC Offshore Wind Markets
According to Bladt Industries' 2016 annual results, the company saw a very favourable year with offshore wind projects as the main driver. Bladt reported a revenue increase from DKK 3 billion (approx. EUR 403 million) in 2015 to DKK 3.5 billion (approx. EUR 470 million) last year.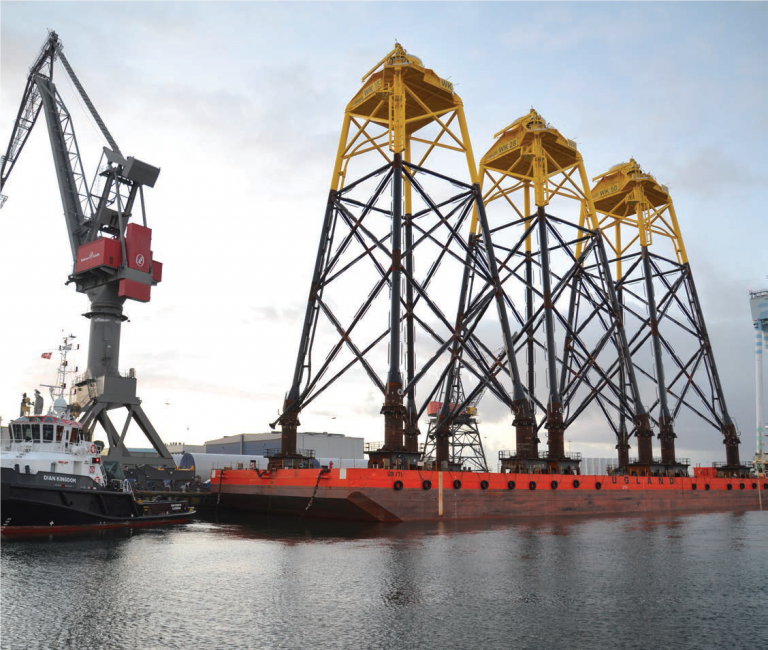 The company's EBITDA stood at DKK 157.4 million (EUR 21 million), up from DKK 138.9 million (EUR 18 million) in 2015. Bladt posted a profit for the year of DKK 86.9 million (EUR 11 million), an increase from DKK 86.9 million (EUR 8 million) reported for the previous year.
In its annual results, Bladt also stated that it is exploring the emerging offshore wind opportunities within foundations and substations in the US and in the Asia Pacific region.
"Going forward, the offshore wind market is expected to remain at a high activity level and further growth may be possible if the low energy prices for offshore wind achieved at recent auctions translate into larger volumes of offshore wind capacity being consented for grid connection in the future. Competitive intensity is increasing in the European offshore wind market both in the auctions for energy prices for offshore wind farms and in the supply chain. Beyond the European market, the nascent US offshore wind market may provide growth opportunities especially after 2020," Bladt said.
During 2016, the company delivered offshore wind foundations and substations, as well as bridges, complex building steel, storage tank solutions, etc.
Bladt Industries worked on foundations for wind turbines for six offshore wind farms in 2016 totalling 317 foundations across these wind farms. Also, the company completed or partially produced six substations for four offshore wind farms.
The significant project portfolio executed by Bladt Industries in 2016 included the finalisation of offshore wind turbine transition pieces for the Veja Mate and the Burbo Bank Extension offshore wind farms, as well as the initiation of production of transition pieces for the Walney Extension and the Arkona offshore wind farms. These projects include a total of 246 transition pieces for monopile foundations.
Production of these took place both at Bladt Industries' site in Aalborg, Denmark, and at Offshore Structures (Britain) Limited, the UK production site owned in a joint venture between German EEW Special Pipe Constructions (EEW SPC) and Bladt Industries.
Furthermore, the project portfolio in 2016 included jacket foundations for offshore wind turbines produced at Bladt Industries' facilities at Lindoe Industrial Park. Bladt delivered 41 jacket foundations for the Wikinger offshore wind farm and initiated production of 30 jacket foundations for the Beatrice offshore wind farm in the UK.
Also, the company produced substations for the Sandbank, the Nordsee One and the Bligh Bank offshore wind farms, and initiated fabrication of three substations for the Hornsea One offshore wind farm.